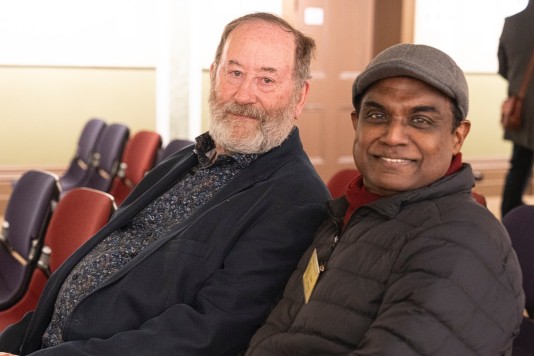 Giving thanks – 'Instant Melbourne' Exhibition 2023
Firstly, thank you to MCC Member Des Crossley who had came up a with a novel and brilliant idea to have our club members participate Instant Melbourne Project – using a Fujifilm Instax Camera and holding an exhibition to coincide with Open House Melbourne weekend.
Secondly, a big thank you to all participants, including Des Crossley, Sally Paterson, Kaye Linsdell, Adélaïde Bernard, Jess Holmes, Susan Brunialti, Russell Mason, as well as all the members that participated in providing their Instax Images to help make this exhibition a success.
Finally, thank you to Patrick Horton for making a surprise visit to MCC for this event. Patrick was the past President of MCC in 1999 / 2000 and now resides in England.
Link to photo gallery from opening night.
ROSTER ASSISTANCE REQUIRED – this weekend: 29-30 JULY
We need more exhibitors and Members to please sign up to help out on the roster at the exhibition this coming weekend to welcome our visitors.
There are 2-hour shifts available, please click on the link to choose a day and time that suits. Thank you in advance for volunteering to help out at your club.
Image: Adélaïde Bernard: Photo of Mark Devaraj and Patrick Horton, past President MCC 1999-2000.
Interclub Portrait Competition – Entries Open!
This year, MCC is coordinating the Interclub Portrait Competition previously managed by Camberwell Camera Club. The participating clubs this year will be Williamstown, Camberwell, Caulfield, Eastern Suburbs, Warragul and Melbourne.
We invite all members to consider entering their best portrait photos for consideration as part of our club entry. There are 3 sections:
Single person portrait
Two or more people
Creative portraiture – Polyptychs (diptychs, triptychs, etc) are permitted in this category only.
Image Size
JPEG images of up to 3840×2160 and 5MB.
Entries are open now and close on 30 September 2023
Introduction to Photography Course –August 2023
We are looking for Members to assist with the August Introduction to Photography Course which runs at MCC on Tuesday evenings, and 3 Sunday mornings during August.
Members will be required to assist course participants to locate and change settings on their cameras and to provide general support during the sessions and workshops. We currently have Canon, Nikon, Olympus, Pentax, Lumix and Sony users attending.
Please get in touch if you can help out.
Contact: Graeme Diggle, ph: 0409 598 770 or email below.
Wolfhound Gallery – Visual Foray Exhibition by MCC Members: Final Week!
The exhibition will continue until 30 July.
MCC members' participating photographers: Greg Branson, Lesley Bretherton, Des Crossley, Paul Dodd, Ralph Domino, Sally Paterson, Matt Smith, Russell Spence, Renee Sterling, Ruth Woodrow, Mary Willis – are exhibiting their works at the Visual Foray exhibition at Wolfhound Gallery during July.
Wolfhound Gallery
Level 1, 386 Brunswick Street, Fitzroy
See website for opening hours
Image: Russell Spence

Analogue Photography Group
Monday 24 July,7.30pm
Discussion will focus on planning for 23rd Analogue Exhibition. Exhibition entries are now open.
In addition there will be opportunities to obtain feed back on printmaking, passion projects: and work in progress.

*Zoom only* PDI Competition
Thursday 27 July, 8pm
Set Subject: Humour
Judge: Alan Moyle
Competition Entry Date: Wednesday 12 July 2023 (already closed)
Note that this is a Zoom Only event, with no attendees at the Clubrooms.
Link in weekly newsletter

'Instant Melbourne' Exhibition and Open House Melbourne Weekend
Saturday and Sunday
29-30 July, 11am-3pm

Introduction to Photography Course
Tuesday 1 August, 7.30pm
For Registered Partcipiants
Exhibition: IN FOCUS: 'Scapes
July 26th – August 6th, 2023
An exhibition of photographs by members of the Waverley Camera Club.
Opening night Wednesday July 26th, 6-8pm.
Thereafter open daily 10am – 3pm
Free Entry (donations welcome)
Location: Track Gallery at the Mount Waverley Community Centre' 47 Miller Crescent, Mt Waverley
Mosman Photography Awards – Entries Close Tuesday 1 August!
The Mosman Photography Club is holding their annual photography awards competition which is open to entries from across Australia. Categories include:
Open
Open
Monochrome
Animals and Birds
Smartphones
Landscapes of Mosman
Portfolio
Important Dates:
Entries close by midnight Tuesday 1 August 2023
Judging will be completed by the end of August
Shortlisted entries announced early September
Awards Event will be held on the evening of Friday 13 October, in Sydney
'Shot in the Heart of Australia' Exhibition 2023
The Australian Association of Street Photographers is proud to bring the eleventh 'Shot in the Heart of Australia' exhibition.
Held in the beautiful Frater, Hammond and McCubbin galleries at the historic Victorian Artists Society building, the exhibition is focused on each photographer's personal interpretation of street photography within the Australia.
Opening Event: Friday 28 July, 7pm-8:45pm
Exhibition Dates: 27 July to 7 August
Opening Hours: M-F 10am-4pm; Weekends 11am-4pm
Location:
Victorian Artists Society
430 Albert Street, East Melbourne
VAPS Newsbrief
Latest Issue
Monthly issues of VAPS Newsbrief are available online, published at the start of each month.
Celebrating MCC Members' Photography Success
If you have any recent results you would like to share to inspire other members in their photography journey, please email the Newsletter team so the website page can be updated and shared in the Weekly News.
MCC does not endorse any competitions/exhibitions that are listed, the content is for informational purposes.
Editorial Committee: Sally Paterson / Mark Devaraj / Paul Dodd / Vitas Anderson / Helen Lang
Email articles and news items for Weekly News to: newsletter.group@melbournecameraclub.org.au
Submission cut off: 12pm Saturdays
Material may be subject to editing for content and length
Include an image where possible
Melbourne Camera Club © 2023

254-256 Ferrars St




South Melbourne

,

VIC

3205




Australia