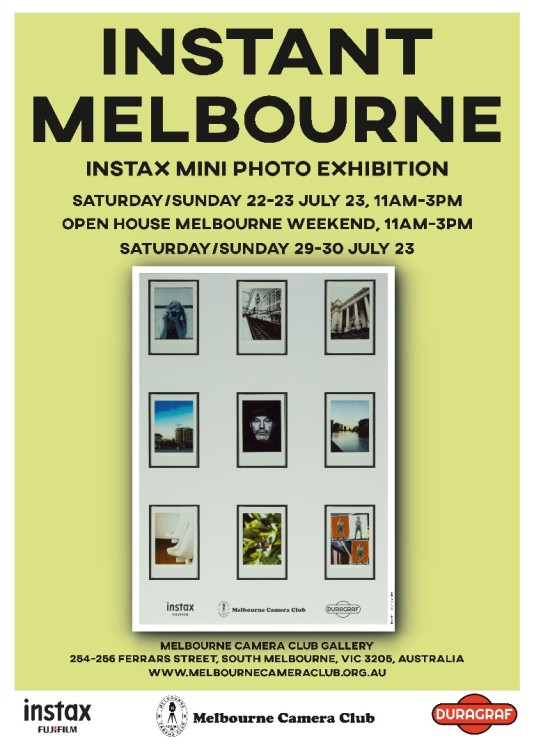 'Instant Melbourne' Exhibition – Opening Event
All Exhibitors, Members and friends of MCC are warmly invited to attend the 'Instant Melbourne' Exhibition opening this Thursday 20 July at 8pm.
Thank you to the 30 exhibitors who participated in the Instant Melbourne project, taking photos around our city with Instax Instant cameras. The 600 photos will be mounted and on show for the two weekends, including Open House Weekend at the end of July.
Exhibition dates:
Saturday 22 & Sunday 23 July, 11am-3pm
Saturday 29 & Sunday 30 July, 11am-3pm Open House Weekend
Exhibition Roster:
In addition we need more exhibitors and Members to please sign up to help out on the roster at the exhibition weekends to welcome our visitors.
There are 2-hour shifts available, please click on the link to choose a date and time that suits. Thank you in advance for volunteering to help out at your club.
Welcome to our newest Members!
We warmly welcome our newest members to the Club who have joined over the past month.
If you see our new members at club events and meetings, please introduce yourself and make them feel welcome.
Ken Opeskin
Alice Levin
Reade Smith
Angela Mamalis
Murat Gurdag
Tina Wilkins
Chassity Jackson
Geoff Shaw
Debbie Ray
Margaret Alexander
Luca De Angelis
Currently we have 334 members.
Interclub Portrait Competition
This year, MCC is coordinating the Interclub Portrait Competition previously managed by Camberwell Camera Club. The participating clubs this year will be Williamstown, Camberwell, Caulfield, Eastern Suburbs, Warragul and Melbourne.
We invite all members to consider entering their best portrait photos for consideration as part of our club entry. There are 3 sections:
Single person portrait
Two or more people
Creative portraiture – Polyptychs (diptychs, triptychs, etc) are permitted in this category only.
Image Size
JPEG images of up to 3840×2160 and 5MB.
Entries are open now and close on 30 September 2023
Introduction to Photography Course – August 2023
We are looking for Members to assist with the August Introduction to Photography Course which runs at MCC on Tuesday evenings, and 3 Sunday mornings during August.
Members will be required to assist course participants to locate and change settings on their cameras and to provide general support during the sessions and workshops. We currently have Canon, Nikon, Olympus, Pentax, Lumix and Sony users attending.
Please get in touch if you can help out.
Contact: Graeme Diggle, ph: 0409 598 770 or email below.
Celebrating MCC Members: Ruth Woodrow and Graeme Diggle
Congratulations to Ruth for taking out a category win in the 20th Julia Margaret Cameron Award for Women Photographers. This is a major international photographic competition attracting thousands of entries from women photographers, worldwide.
Congrats also to Graeme who was awarded a Merit for his image 'Polo Action' in the EDPI section of the VAPS Interclub Competition, held recently at the VAPS Convention.
Image: The Horses by Ruth Woodrow
MCC Door Ticket Give Away
We have Three double passes to give away this coming week at our club meeting on Thursday 20 July. 3 lucky winners will be drawn on the night.
Dalíland – Directed by acclaimed filmmaker Mary Harron (I Shot Andy Warhol, American Psyco).
Dalíland stars Ben Kingsley as the titular Salvador Dalí, one of the most world-renowned artists of the 20th century. The film focuses on the later years of the strange and fascinating marriage between Dalí and his wife, Gala, and takes the tale back to a young Dalí.
Andrew Greig speaking on Art Nude Photography

Thursday 3 August, 8pm at Clubrooms and via Zoom
Andrew Greig specialises in model portfolios and Art Nude photography. He will be presenting on how to work with models and the required values for a successful shoot and for building a reputation for safety.
A component of this presentation will be a practical interactive session and Andrew will demonstrate how to direct and pose a model for a successful outcome.
Members are encouraged to go to this website before the session and read about "Posing Pitfalls, 5 things which ruin poses and how to fix them".
For those viewing on Zoom who have young children, please be aware that there could be nudity presented during this session.
Wolfhound Gallery – Visual Foray Exhibition by MCC Members
The exhibition will continue until 30 July.
MCC members' participating photographers: Greg Branson, Lesley Bretherton, Des Crossley, Paul Dodd, Ralph Domino, Sally Paterson, Matt Smith, Russell Spence, Renee Sterling, Ruth Woodrow, Mary Willis – are exhibiting their works at the Visual Foray exhibition at Wolfhound Gallery during July.
Wolfhound Gallery
Level 1, 386 Brunswick Street, Fitzroy
See website for opening hours
Image: Russell Spence

Digital Editing Group
Monday 17 July, 8pm
The main focus for this month will be black and white processing in Lightroom and Photoshop.
We will cover basic conversion techniques as well as more advanced image refinement processes.

Mid-Week Outing
Tuesday 18 July, 10:30am
Destination – Italian Museum at 189 Faraday St., Carlton.
This museum showcases the early life of Italians who arrived in Melbourne largely in the 1950s and 60s. Following that, we will amble along Lygon St. to photograph all the things that are 'Italian' along that street.
Meeting time and place: Brunetti Café Carlton (cakes to die for!) on the east side of Lyon St. between Faraday and Elgin Sts. We meet there at 10.30am.

Conceptual Photography Group
Wednesday 19 July, 7:30pm
Bring or upload Work in Progress, especially any changes you have made since our guest critic gave feedback.
For the benefit of newer members, we'll discuss Artist Statements. If you already have a sample of an Artist Statement, bring or upload it as a fillip for newer members.
We will also consult with members on the upcoming Conceptual Group Exhibition on 'Natural Intelligence'.

'Instant Melbourne' Exhibition Opening Event

Thursday 20 July, 8pm
All Exhibitors, Members and friends of MCC are warmly invited to attend the 'Instant Melbourne' Exhibition opening this Thursday 20 July at 8pm.

MCC Instant Melbourne Exhibition
Saturday 22 July, 10am – 4pm
Sunday 23 July, and Sunday
Exhibition will be displayed in the MCC clubrooms. All are welcome.

Nature Group Outing

Sunday 23 July, 10am – 4pm
Visit to Werribbee Open Zoo
This will be a particularly good opportunity for members new to nature photography.
Unless you are a member of the zoo you will need to book tickets online or purchase on arrival.
Time – 10am
Date – Sunday, 23 July
Place – Just inside from the main entrance
BYO lunch or purchase something from one of the food outlets.
Mosman Photography Awards
The Mosman Photography Club is holding their annual photography awards competition which is open to entries from across Australia. Categories include:
Open
Open
Monochrome
Animals and Birds
Smartphones
Landscapes of Mosman
Portfolio
Important Dates:
Entries midnight on 1 August 2023
Judging will be completed by the end of August
Shortlisted entries announced early September
Awards Event will be held on the evening of Friday 13 October, in Sydney
'Shot in the Heart of Australia' Exhibition 2023
The Australian Association of Street Photographers is proud to bring the eleventh 'Shot in the Heart of Australia' exhibition.
Held in the beautiful Frater, Hammond and McCubbin galleries at the historic Victorian Artists Society building, the exhibition is focused on each photographer's personal interpretation of street photography within the Australia.
Opening Event: Friday 28 July, 7pm-8:45pm
Exhibition Dates: 27 July to 7 August
Opening Hours: M-F 10am-4pm; Weekends 11am-4pm
Location:
Victorian Artists Society
430 Albert Street, East Melbourne
VAPS Newsbrief
Latest Issue
Monthly issues of VAPS Newsbrief are available online, published at the start of each month.
Celebrating MCC Members' Photography Success
If you have any recent results you would like to share to inspire other members in their photography journey, please email the Newsletter team so the website page can be updated and shared in the Weekly News.
MCC does not endorse any competitions/exhibitions that are listed, the content is for informational purposes.
Editorial Committee: Sally Paterson / Mark Devaraj / Paul Dodd / Vitas Anderson / Helen Lang
Email articles and news items for Weekly News to: newsletter.group@melbournecameraclub.org.au
Submission cut off: 12pm Saturdays
Material may be subject to editing for content and length
Include an image where possible
Melbourne Camera Club © 2023

254-256 Ferrars St




South Melbourne

,

VIC

3205




Australia