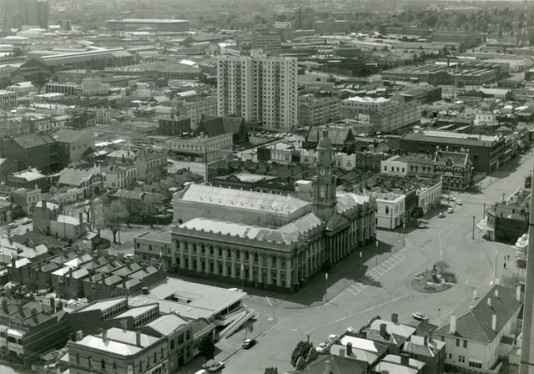 The inaugural MCC Drone and Panorama Photography Group
The newly established Drone and Panorama Photography (D&PP) Group will hold their inaugural meeting in the club rooms on Tuesday, 11 July 2023, at 7.30 pm.
All interested members and guests are invited to discuss how the D&PP Group could help you develop your skills and explore this exciting new genre. You don't need to own a drone to come along to the clubroom meetings.
The D&PP Group is not limited to drone photography. It is also relevant to members interested in panoramic photography using conventional digital and analogue cameras.
Details are below in What's On.
Image: Historic View from Park Towers by Barney Meyer
Introduction to Photography Course – August 2023
We are looking for members to assist with the August Introduction to Photography Course.
Members will be required to assist course participants to locate and change settings on their cameras and to provide general support during the sessions and workshops. We currently have Canon, Nikon, Olympus, Pentax, Lumix and Sony users attending.
Sessions will be held at the Clubrooms, except for the 27 August workshop.
Session 1: Tuesday 1 August. 7.30pm-9.30pm
Workshop 1: Sunday 6 August, 9.30am-12pm
Session 2 Tuesday 8 August, 7.30pm-9.30pm
Workshop 2 Sunday 13 August, 9.30am-12pm
Session 3 Tuesday 15 August, 7.30pm-9.30pm
Session 4 Tuesday 22 August, 7.30pm-9.30pm
Workshop 3 Sunday 27 August, Melbourne University 9.30am-12pm
Session 5 Tuesday 29 August 7.30pm – 9.30pm
Please get in touch if you can help out.
Contact: Graeme Diggle, ph: 0409 598 770 or email below.
Interclub Portrait Competition
This year, MCC is coordinating the Interclub Portrait Competition previously managed by Camberwell Camera Club. The participating clubs this year will be Williamstown, Camberwell, Caulfield, Eastern Suburbs, Warragul and Melbourne.
We invite all members to consider entering their best portrait photos for consideration as part of our club entry. There are 3 sections:
Single person portrait
Two or more people
Creative portraiture – Polyptychs (diptychs, triptychs, etc) are permitted in this category only.
Image Size
JPEG images of up to 3840×2160 and 5MB.
Entries are open now and close on 30 September 2023
Instant Melbourne Exhibition & Open House Weekend

MCC will be again participating in Open House Weekend this month. We will be holding our 'Instant Melbourne Exhibition' over two weekends 22-23 July and 29-30 July (Open House weekend).
Thank you to the 30 exhibitors who participated in the Instant Melbourne project, taking photos around our city with Instax Instant cameras. The 600 photos will be mounted and on show for the two weekends. The Exhibition opening will be held on Thursday 20 July at 8pm.
In addition we also would like exhibitors and Members to please sign up to help out on the roster at the exhibition weekends to welcome our visitors.
There are 2-hour shifts available, please click on the link to choose a date and time that suits. Thank you in advance for volunteering to help out at your club.
Conceptual Photography Group
The next meeting of the Conceptual Group will be Wednesday 19 July, 7:30 at the Clubrooms
Bring or upload Work in Progress, especially any changes you have made since our guest critic gave feedback.
For the benefit of newer members, we'll discuss Artist Statements. If you already have a sample of an Artist Statement bring or upload it as a fillip for newer members.
We will also consult with members on:
Title of the Exhibition
Dates and times
Advertising to the public
Selection of "hero images"
Opening of the exhibition
Staffing the exhibition
Portrait sessions?
Post-exhibition exhibition?
Nature Group Outing

The next Nature Group outing will be on Sunday 23 July to visit Werribee Zoo.
This will be a particularly good opportunity for members new to nature photography.
Unless you are a member of the zoo you will need to book tickets online or purchase on arrival.
Meeting details:
Time – 10am
Date – Sunday, 23 July
Place – Just inside from the main entrance
BYO lunch or purchase something from one of the food outlets.
Wolfhound Gallery – Visual Foray Exhibition by MCC Members
The exhibition will continue until 30 July.
MCC members' participating photographers: Greg Branson, Lesley Bretherton, Des Crossley, Paul Dodd, Ralph Domino, Sally Paterson, Matt Smith, Russell Spence, Renee Sterling, Ruth Woodrow, Mary Willis – are exhibiting their works at the Visual Foray exhibition at Wolfhound Gallery during July.
Wolfhound Gallery
Level 1, 386 Brunswick Street, Fitzroy
See website for opening hours
Image: Matt Smith
Mosman Photography Awards
The Mosman Photography Club is holding their annual photography awards competition which is open to entries from across Australia. Categories include:
Open
Open
Monochrome
Animals and Birds
Smartphones
Landscapes of Mosman
Portfolio
Important Dates:
Entries midnight on 1 August 2023
Judging will be completed by the end of August
Shortlisted entries announced early September
Awards Event will be held on the evening of Friday 13 October, in Sydney

Photo Discussion Group
Monday 10 July, 8pm
The Photo Discussion Group provides a regular forum where you can discuss your passion for photography with like-minded enthusiasts.
We explore how we might continue to develop our skills by considering issues such as:
what makes winning images in competitions
how judges evaluate our work
how we can improve our creative techniques (image capture, image processing and printing) to create images we love and that appeal to a wider audience; and
how we can push beyond current limitations and continue to develop our art.

Drone and Panorama Photography Group
Tuesday 11 July 2023, 7.30pm
Drone photography enthusiasts and panoramic photographers are invited to discuss how the D&PP Group could help you develop your skills and explore this exciting new genre.

Grace Lock Group
Wednesday 12 July, 7:30pm
The Grace Lock Group July meeting will be to Lightscape at the Royal Botanic Gardens, for the 7.30pm session.
Purchase tickets now to ensure you can join us. Link to Ticketek here.
Grab your gear and tripod and join fellow MCC members as we explore the wonder of Lightscape.
We'll meet at Melbourne Observatory on Birdwood Avenue at 7.15 for entry to the gardens at 7.30. Grab a bite to eat at the tempting food trucks and bars at the Lightscape Welcome Zone or along the trail.

Print Competition (Clubrooms only)

Thursday 13 July, 8pm
Set Subject: Humour
Judge: Andrew Esposito
Competition Entry Deadline: Wednesday 12 July, midnight
New APS Approved Exhibition
Opening 15 June, Closing 30 July

The Graham Burstow Monochrome Prize was established in 2023 in honour of Graham Burstow OAM SAPS PSQA FFRPS FAPS EFIAP – who was one of the founding members of the Australian Photographic Society, and since that time he contributed enormously to the Society and it's members. He was involved in the establishment of the APS national and international exhibitions. Graham was the APS President from 1982 to 1984, and he was the Print Division Chairman for ten years.
Graham's stunning photographs are held in many institutions around Australia, including the National Library in Canberra, and HOTA on the Gold Coast. His images show his great passion for street photography, especially in Mono.
ONE SECTION – MONO STREET PHOTOGRAPHY: Acceptances gained in this exhibition may be used towards APS honours.
State Library exhibition – MIRROR: New views on photography.

19 May 2023- 28 January 2024
Great photography can hold up a mirror to the world and reflect our innermost thoughts and feelings.
MIRROR: New views on photography showcases over 140 photographs from the State Collection, alongside creative responses from emerging and established Victorian storytellers to tell fascinating tales of Victoria through a contemporary lens.
Displayed in stunning immersive detail, the photos of Rennie Ellis, Viva Gibb, Helmut Newton and more combine with the words, performance and sounds of Alice Skye, Christos Tsiolkas, Jason Tamiru, Walter Kadiki and other storytellers to produce new narratives of Victorian people and places.
Free, no bookings required.
VAPS Newsbrief
Latest Issue
Monthly issues of VAPS Newsbrief are available online, published at the start of each month.
Celebrating MCC Members' Photography Success
If you have any recent results you would like to share to inspire other members in their photography journey, please email the Newsletter team so the website page can be updated and shared in the Weekly News.
MCC does not endorse any competitions/exhibitions that are listed, the content is for informational purposes.
Editorial Committee: Sally Paterson / Mark Devaraj / Paul Dodd / Vitas Anderson / Helen Lang
Email articles and news items for Weekly News to: newsletter.group@melbournecameraclub.org.au
Submission cut off: 12pm Saturdays
Material may be subject to editing for content and length
Include an image where possible