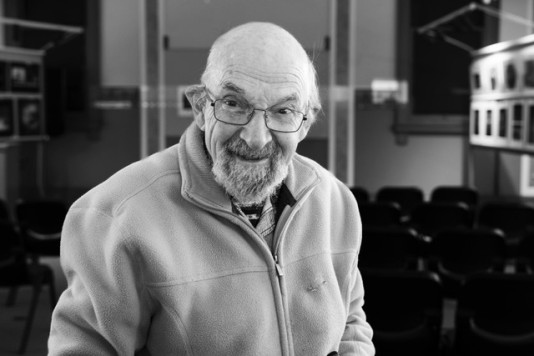 We had a wonderful evening with around 60 members and guests at the opening of Ian Bock's 90th birthday exhibition last Thursday. Ian recounted his journey in photography over the many years from his first analogue camera to now working in the digital realm. Ian's exhibition included not only his images but photographic paraphernalia (cameras, books, unique equipment) which Ian has collected over his many years.
Link to some images from the evening – click here.
Next week we look forward to the inaugural meeting of the MCC Drone and Panorama Photography Group on Tuesday 11 July 7.30pm in the Clubrooms.
Also a reminder to join the Grace Lock Group on Wednesday 12 July for an Excursion to Lightscape – Royal Botanic Gardens. Get in early to secure a ticket, details below in What's On.
Image: Ian Bock by Mark Devaraj
Wolfhound Gallery – Visual Foray Exhibition by MCC Members
Eleven MCC members are participating in an upcoming exhibition at Wolfhound Gallery in Brunswick Street, Fitzroy.
'Visual Foray' will be opening on Friday 7 July, 6-8pm and the exhibition will continue until 30 July. All MCC members are warmly invited to join us at the opening event.
Participating photographers: Greg Branson, Lesley Bretherton, Des Crossley, Paul Dodd, Ralph Domino, Sally Paterson, Matt Smith, Russell Spence, Renee Sterling, Ruth Woodrow, Mary Willis.
Wolfhound Gallery
Level 1, 386 Brunswick Street, Fitzroy
See website for opening hours.
https://www.wolfhoundgallery.com.au/
MCC Door Give Away
We have Three double passes to give away this coming week at our club meeting on Thursday 6th July. 3 lucky winners will be drawn on the night.
The movie Reality based on a captivating true story is now showing at a couple of cinemas around Melbourne.
REALITY – See Sydney Sweeney (Euphoria, The White Lotus) like you have never seen her before, playing a true-to-life whistleblower. REALITY is a riveting single-location thriller, using real FBI interrogation transcripts to present one of the most polarising political events in recent US history. ★★★★★ "Brilliant"| THE GUARDIAN. In cinemas 29 June.
Board Update
The MCC Board would like to welcome Joanne Rinaldi to the Board as an Alternate Director, appointed by the Board in June until the next AGM in early October to fill the vacancy left following Paul Dodd's resignation.
Australian Photographic Prize – Entries closing tomorrow: Monday 3 July, 5pm!
This competition is open to all photographers and includes print and digital sections.
The event will be hosted at Photography Studies College in South Melbourne. There is the opportunity to attend live judging – always a huge amount of value as you can see and hear the judges critiquing each image. Additionally, there is a trade show and the inevitable after party and awards night!
The event runs from 21-23 July but entries are open right now, closing on 3 July! There are some amazing prizes too!

Portrait Group Meeting
Monday 3 July, 7pm
Monthly meeting of the Portrait Group – first Monday of each month. An excellent chance to practice portrait photography skills, learn about studio lighting and grow your portfolio.
Open to all MCC members (and visitors may attend up to 2 sessions)

Mid-Week Outing
Tuesday 4 July, 10:30am
Destination – MIRROR: New views on photography – an exhibition at the State Library Victoria, 328 Swanston Street, Melbourne.
We will meet for coffee etc. at 10.30 am in the dining hall of Melbourne Central, on the southwest corner of Swanston & Latrobe streets. When you are at the corner, proceed up the escalator to the first level and then straight ahead to the dining hall/food court.

Club Members Discuss their Work
Thursday 6 July, 8pm
An opportunity for club members to present and discuss their work.
Our featured club members this week are:
Richard Paris
Renate Parton
Robin Tully
Please join us in person at the Clubrooms, or via Zoom:
Link: Members see Weekly News email that came out on Sunday.

Photo Discussion Group
Monday 10 July, 8pm
The Photo Discussion Group provides a regular forum where you can discuss your passion for photography with like-minded people.
In a friendly, helpful environment, we explore a diverse range of photography topics – what makes competition winning images, creative techniques, how do judges evaluate our work, what tools we use to create the images we love, and how we may progress our skills to a higher level – to name a few.

Drone and Panorama Photography Group
Tuesday 11 July 2023, 7.30 pm
The recently sanctioned Drone and Panorama Photography Group will hold their inaugural meeting in the club rooms.
All members and guests are welcome to attend for a "meet and greet" and discuss how the Group operates and moves forward to cater to participants' needs.
Please come along if you are keen to participate and contribute to this new Group to explore and develop your skills in this exciting genre.
The Group is not limited to only drone photography but will be of relevance to members with an interest in panoramic photography using conventional digital and analogue cameras.
This is an opportunity to participate in an exciting new genre of photography within the Melbourne Camera Club.

Grace Lock Group
Wednesday 12 July, 7:30pm
Excursion to Lightscape – Royal Botanic Gardens Wednesday 12 July
The Grace Lock Group July meeting will be to Lightscape, the 7.30pm session. Purchase tickets now to ensure you can join us. Link to Ticketek here.
Be mesmerised by an eight-metre sphere filled with over 20,000 moving LEDs, singing trees and a flickering fire garden amongst colour-changing installations, soundscapes and large-scale illuminated sculptures. Experience the new two kilometre trail around the lake and celebrate the beauty of nature after dark.
We'll meet at Melbourne Observatory on Birdwood Avenue at 7.15 for entry to the gardens at 7.30. Grab a bite to eat at the tempting food trucks and bars at the Lightscape Welcome Zone or along the trail
Rug up and bring your tripod if you have one.
New APS Approved Exhibition
Opening 15 June, Closing 30 July

The Graham Burstow Monochrome Prize was established in 2023 in honour of Graham Burstow OAM SAPS PSQA FFRPS FAPS EFIAP – who was one of the founding members of the Australian Photographic Society, and since that time he contributed enormously to the Society and it's members. He was involved in the establishment of the APS national and international exhibitions. Graham was the APS President from 1982 to 1984, and he was the Print Division Chairman for ten years.
Graham's stunning photographs are held in many institutions around Australia, including the National Library in Canberra, and HOTA on the Gold Coast. His images show his great passion for street photography, especially in Mono.
ONE SECTION – MONO STREET PHOTOGRAPHY: Acceptances gained in this exhibition may be used towards APS honours.
State Library exhibition – MIRROR: New views on photography.

19 May 2023- 28 January 2024
Great photography can hold up a mirror to the world and reflect our innermost thoughts and feelings.
MIRROR: New views on photography showcases over 140 photographs from the State Collection, alongside creative responses from emerging and established Victorian storytellers to tell fascinating tales of Victoria through a contemporary lens.
Displayed in stunning immersive detail, the photos of Rennie Ellis, Viva Gibb, Helmut Newton and more combine with the words, performance and sounds of Alice Skye, Christos Tsiolkas, Jason Tamiru, Walter Kadiki and other storytellers to produce new narratives of Victorian people and places.
Free, no bookings required.
VAPS Newsbrief
Latest Issue
Monthly issues of VAPS Newsbrief are available online, published at the start of each month.
Celebrating MCC Members' Photography Success
If you have any recent results you would like to share to inspire other members in their photography journey, please email the Newsletter team so the website page can be updated and shared in the Weekly News.
MCC does not endorse any competitions/exhibitions that are listed, the content is for informational purposes.
Editorial Committee: Sally Paterson / Mark Devaraj / Paul Dodd / Vitas Anderson / Helen Lang
Email articles and news items for Weekly News to: newsletter.group@melbournecameraclub.org.au
Submission cut off: 12pm Saturdays
Material may be subject to editing for content and length
Include an image where possible