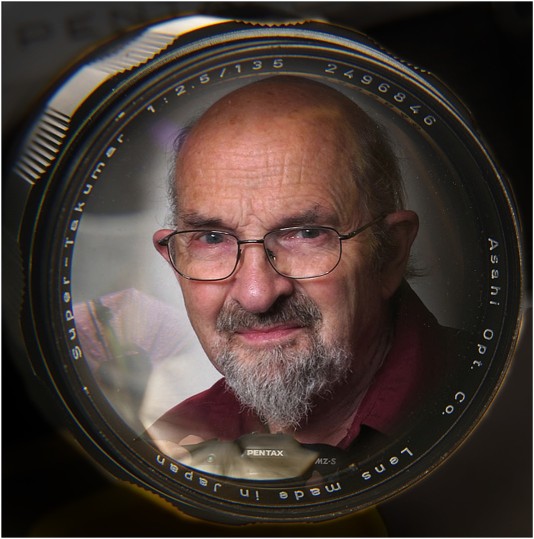 MCC Life Member Ian Bock's Personal Exhibition: The Mind Bockles
Ian Bock is having a retrospective exhibition of his photography to mark his 90th birthday and 76 years of photography.
This is unlike other exhibitions. There will be photographs covering the whole period including one from Ian's first film from a box Brownie. There will be award winners and horrible examples.
There will be some darkroom equipment and old cameras on display.
All Members and friends of MCC are warmly invited to attend the Exhibition Opening Event and talk by Ian – on Thursday 29 June at 8:00pm.
The exhibition continues on Saturday 1 July, and Sunday 2 July, 11am-4pm each day.
Image: Ian Bock – of course!
Celebrating MCC Members: Andrew Greig
Congratulations to Andrew who in recognition of his photographic expertise presented to the APJA zoom meeting on Friday 4th June regarding judging fine art nude.
Australian Photographic Prize – Entries are Open until 3 July!
This competition is open to all photographers and includes print and digital sections.
The event will be hosted at Photography Studies College in South Melbourne. There is the opportunity to attend live judging – always a huge amount of value as you can see and hear the judges critiquing each image. Additionally, there is a trade show and the inevitable after party and awards night!
The event runs from 21-23 July but entries are open right now, closing on 3 July! There are some amazing prizes too!

Analogue Photography Group
Monday 26 June, 7:30pm
We will have our usual show and tell, new projects and cameras of interest.
We will discuss preparation for the annual analogue exhibition.
The activity is the sharing of books that inspire us. Bring along your favourite book about a photographer or a technical book.

Board Meeting
Tuesday 20 June, 7.30pm
The MCC Board meets on the fourth Tuesday of the month.
Any items for the Board should be emailed to the Secretary

Nature Group Meeting
Wednesday 28 June, 8pm
Meeting of Nature group to share images and hear from some experienced members about their approach to nature photography.

Ian Bock's 90th Birthday Exhibition
Thursday 29 June, 8pm
All Members and friends of MCC are invited to attend the Exhibition Opening Event and talk by Ian.
Zoom will be available if you are unable to attend, but we suggest to attend in person to view the prints and equipment on display, and to celebrate Ian's 90th birthday!

Ian Bock's 90th Birthday Exhibition
Saturday 1 July, 11am – 4pm
Sunday 2 July, 11am – 4pm
Come see Ian Bock's retrospective exhibition at the clubrooms.

Portrait Group Meeting
Monday 3 July, 7pm – 10:30pm
This is the monthly meeting of the Portrait Group. An excellent chance to practice portrait photography skills, learn about studio lighting and grow your portfolio.
The meeting is a practical photography session. We use flash lighting in a studio setting. We will have 2 sets operating and 2-3 models, so there will be ample opportunity to shoot.
Open to all MCC members (and visitors may attend up to 2 sessions).
New APS Approved Exhibition
Opening 15 June, Closing 30 July

The Graham Burstow Monochrome Prize was established in 2023 in honour of Graham Burstow OAM SAPS PSQA FFRPS FAPS EFIAP – who was one of the founding members of the Australian Photographic Society, and since that time he contributed enormously to the Society and it's members. He was involved in the establishment of the APS national and international exhibitions. Graham was the APS President from 1982 to 1984, and he was the Print Division Chairman for ten years.
Graham's stunning photographs are held in many institutions around Australia, including the National Library in Canberra, and HOTA on the Gold Coast. His images show his great passion for street photography, especially in Mono.
ONE SECTION – MONO STREET PHOTOGRAPHY: Acceptances gained in this exhibition may be used towards APS honours.
State Library exhibition – MIRROR: New views on photography.

19 May 2023- 28 January 2024
Great photography can hold up a mirror to the world and reflect our innermost thoughts and feelings.
MIRROR: New views on photography showcases over 140 photographs from the State Collection, alongside creative responses from emerging and established Victorian storytellers to tell fascinating tales of Victoria through a contemporary lens.
Displayed in stunning immersive detail, the photos of Rennie Ellis, Viva Gibb, Helmut Newton and more combine with the words, performance and sounds of Alice Skye, Christos Tsiolkas, Jason Tamiru, Walter Kadiki and other storytellers to produce new narratives of Victorian people and places.
Free, no bookings required.
VAPS Newsbrief
Latest Issue
Monthly issues of VAPS Newsbrief are available online, published at the start of each month.
Celebrating MCC Members' Photography Success
If you have any recent results you would like to share to inspire other members in their photography journey, please email the Newsletter team so the website page can be updated and shared in the Weekly News.
MCC does not endorse any competitions/exhibitions that are listed, the content is for informational purposes.
Editorial Committee: Sally Paterson / Mark Devaraj / Paul Dodd / Vitas Anderson / Helen Lang
Email articles and news items for Weekly News to: newsletter.group@melbournecameraclub.org.au
Submission cut off: 12pm Saturdays
Material may be subject to editing for content and length
Include an image where possible
Melbourne Camera Club © 2023

254-256 Ferrars St




South Melbourne

,

VIC

3205




Australia