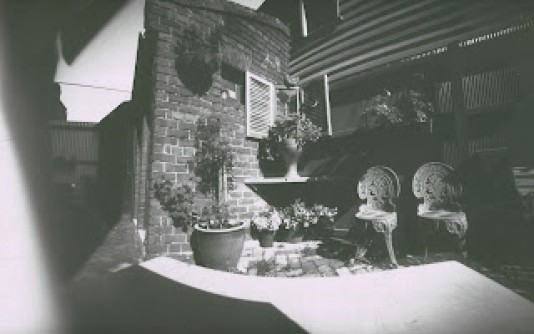 Analogue Photography Group – Pinhole Photography Workshop
Last Sunday, the Analogue Photography Group celebrated Worldwide Pinhole Photography Day by hosting a workshop for members. It was a huge success! Ten participants fashioned pinhole cameras from various containers, including a lens box, a Glenfiddich tube or a Code Black Coffee box.
Many thanks to Shane Booth, who led and supported the workshop with materials and individual assistance. Also, a big thank you to Selby and Andrew, who helped in the dark room, loading paper into the cameras and processing the final images.
Check out the News Post on the website for further details and images, or go to @mcc_darkroom Instagram for more images.
Image: Santina Velo, pinhole image
Call out to all MCC Photographers!
'Instant Melbourne' Photography Project / Exhibition

Imagine…
taking photos of and around Melbourne with an Instant Camera
being able to see the photo straight away and share it
no long hours processing the images on the computer, just your creativity, and you get to have your images shown in an exhibition in July
Entries are open!
At least 30 participants are required to shoot a film of 20 instant images each, all photos must be submitted as part of your entry
This project was created by MCC member Des Crossley who approached Fujifilm to donate 11 Instax mini70 cameras to MCC and Des kindly donated 4 cameras to the Club.
It is free to enter and you will be supplied with a loan camera (for 3 weeks), and Instax film 20 images.
Shooting time is 3 weeks then return the equipment and your photos to MCC, the first group to pick up cameras is this week: Thursday 11 May.
Numbers are limited to 15 people for each group – first in first served!
Register and further information about this project, including how to use the instant cameras – link here.
STEVE DAY – an upcoming presentation on Thursday 18 May 2023
Steve Day is an award-winning international fine arts photographer based in Melbourne. Significant awards include the MonoVisions Photography Awards, ND Awards, Prix de la Photographie Paris, Visions International Photo Awards, and the Centre for Contemporary Photography Salon Melbourne.
In addition to his exhibitions in Melbourne, Hyderabad, New York, Athens, and Paris, Steve's work is also widely published. Recently, Steve won Australian Photography Magazine Black and White Photographer of the Year 2022.
Image: Steve Day, Looking up in London
Nature Exhibition: Invitation to Exhibit
Entries Extended for one more week!!
Closes: Sunday 14 May 2023, 11.59pm
Prints to be delivered: Thursday 18 May, 6.30pm-8pm
The Melbourne Camera Club is pleased to be running its third nature exhibition featuring the works of club members and invited guests. The theme for this year's exhibition is 'Natural Connections'.
We are inviting all members to be a part of this year's Nature Photography Exhibition, which will be held 26 May – 4 June 2023.
For this exhibition we are looking for two or three of your images that work together. They may be themed by subject, colour, texture or any other connection.
Images for the purposes of this exhibition, will need to follow the nature definition as determined by Australian Photography Society (APS). Please refer to details on the Terms & Conditions website page. Entrants are encouraged to contact the Exhibition Committee if they need clarification of the nature definition.
*Image: Mantis by Frances Egan
Advertisement: Photography Workshop
Chris Bray offering $1000 OFF ALASKA this August, KENYA this September!
Join Australian Geographic photographer and global Lumix ambassador Chris Bray on his small-group photo tour to Alaska this August, or Kenya in September! There's only 2 spots left on both tours, and he's offering Melbourne Camera Club members $1000 OFF!
In Alaska, capture photos of bears, puffins, whales, otters, glaciers and more, unhurried & away from the crowds aboard a private expedition ship where Chris will even be driving the zodiacs to get you into the perfect position, running Lightroom tutorials and helping with settings as you sit beside bears pouncing on salmon so close they'll splash you!
Or, discover the magic of Africa on Chris's 24th tour to Kenya! His itinerary, refined over the last 13yrs, is unbeatable: Witness the wildebeest migration, fly doors-off over a lake carpeted in flamingos, stay on a private island in a lake filled with birdlife and hippos, tick 'The Big Five' and more!
MCC does not endorse any workshops that are listed, the content is for informational purposes only.

Photo Discussion Group
Monday, May 8 @ 8:00 PM – 10:00 PM
The Photo Discussion Group provides a regular forum where you can discuss your passion for photography with like-minded people.
In a friendly, helpful environment, we explore a diverse range of photography topics – what makes competition winning images, creative techniques, how do judges evaluate our work, what tools we use to create the images we love, and how we may progress our skills to a higher level – to name a few.
Whatever your interests – photographic genres, image capture, image processing, printing, EDI, the latest tools, or just looking for tips – you will not be disappointed.

Grace Lock Group – Feedback and LR processing demos
Wednesday, May 10 @ 7:30 PM – 9:30 PM
Bring along any images or projects you would like to discuss or receive feedback on.
Members of the group will demonstrate LR processing of particular images.
The Grace Lock Group focuses on women photographers, supporting conversations on personal projects (eg. the creation of portfolios or new bodies of work), as well as the work of other women photographers. It explores our visual expression in a like-minded group in a non-competitive way. Participants are encouraged to bring along their idea or images for discussion.

Print Competition (Club rooms only)
Thursday, May 11 @ 8:00 PM – 10:00 PM
Set Subject: Environmental Portrait
Judge: Craig Wetjen
Competition Entry Closing Date: Wednesday 10 May 11.59pm

Digital Editing Group
Monday, May 15 @ 8:00 PM – 10:00 PM
As the level of understanding of digital editing techniques varies enormously among members, we will aim to provide information at basic, intermediate and advanced levels in each meeting.
The focus is not on how to capture an image, but on what can be done with it in post-processing after downloading the images to your computer. Topics such as adjusting exposure and saturation, compositing, HDR and special effects will be just some of the areas covered. The digital editing techniques discussed will primarily be applicable to Adobe Lightroom and Photoshop, however, these techniques are generally transferable to many other digital editing programmes.
VAPS Convention 16-18 June
Registration Open
Plans are well underway for this year's major event on the VAPS calendar – the Annual Convention, which is being held in Colac this year. Members of all affiliated camera clubs are invited to attend.
All details including the Program and Registrations are available online, refer link.
VAPS Newsbrief
Latest Issue
Monthly issues of VAPS Newsbrief are available online, published at the start of each month.
Celebrating MCC Members' Photography Success

If you have any recent results you would like to share to inspire other members in their photography journey, please email the Newsletter team so the website page can be updated and shared in the Weekly News.
MCC does not endorse any competitions/exhibitions that are listed, the content is for informational purposes.
Editorial Committee: Sally Paterson / Mark Devaraj / Paul Dodd / Vitas Anderson / Helen Lang
Email articles and news items for Weekly News to: newsletter.group@melbournecameraclub.org.au
Submission cut off: 12pm Saturdays
Material may be subject to editing for content and length
Include an image where possible