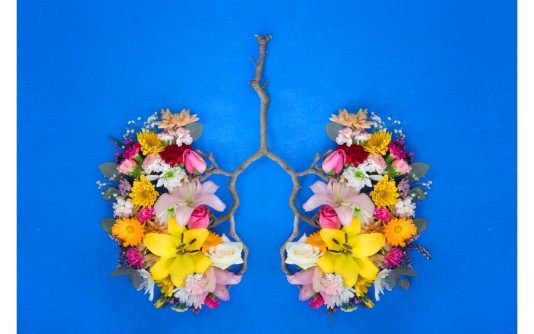 We look forward to this week's Guest Speaker, MCC Member Barney Meyer who will be presenting on Thursday night on Drones and Panorama Demonstration.
Barney Meyer, photographer and 'Hidden Melbourne' website author, will present an illustrated talk about Melbourne's old and new panoramic photographers, including some of the early photographers of the likes of Walter Woodbury, the Paterson Brothers and Charles Nettleton.
If you have not yet visited the International Women's Day Exhibition, it will be open for a final weekend on 18-19 March, 11am-3pm, bring your friends and family to check it out.
Image: Breathe – Alison Crea (Best – Open B Grade Print – Feb 2023)
Exhibition Opportunity for MCC Members

MCC Member Mike Hubel, owner of Wolfhound Gallery in Brunswick St has extended an offer for a small group of MCC members to exhibit at his gallery. The exhibition dates would be approx July.
This is an opportunity for interested members to:
Exhibit outside to MCC to a wider and more diverse audience in a different demographic
A chance to exhibit in larger format, prints A2 or larger
Ideally 6-10 exhibitors each submitting between 4-8 prints but we can work outside these parameters
The gallery is open 6 days a week
Visitors have easy access to the downstairs cafe and lots of eateries, galleries and bars in the area
Prints can be offered for sale or not
Interested applicants should register their interest ASAP to secure a spot in the exhibition.
Contact Mike directly, email: hello@wolfhoundgallery.com.au
or mobile 0419 388 255.
Board Update
The Board would like to advise members that Colette Gaughran resigned from the Board on 12 February, for personal reasons. We pass on our thanks to Colette for her significant contributions to the Club during her time on the Board.
VAPS Convention 16-18 June
Registration Open
Plans are well underway for this year's major event on the VAPS calendar – the Annual Convention, which is being held in Colac this year. Members of all affiliated camera clubs are invited to attend.
The Committee has organised a very interesting and informative group of presenters that will teach and inspire. There are a range of events including practical workshops that all who register can take advantage of over the weekend.
The Committee has put their combined talents and effort into bringing attendees another excellent annual event. Please seriously consider registering and attending. Putting your support behind the VAPS committee and the hard work they have already done will help ensure that this great event will continue in the years ahead.
All details including the Program and Registrations are available online, refer link.
Celebrating MCC Members' Photography Success

If you have any recent results you would like to share to inspire other members in their photography journey, please email the Newsletter team so the website page can be updated and shared in the Weekly News.
MCC does not endorse any competitions/exhibitions that are listed, the content is for informational purposes.

Conceptual Photography Group Meeting
Wednesday 15 March, 7:30pm
Members are invited to bring examples of "My Experiment in AI", and any Work in Progress (WiP)
First-time attendees are warmly welcome. Our Agenda:
An image I generated using AI
Work in progress
Presentation: Four Photographers A-Z
Short Presentation: Mood Boards
Optional Exercise for April
Expression of Interest for the CP Group Exhibition

Guest speaker: Barney Meyer on Drones and Panoramas
Thursday 16 March, 8:00pm
Club Member Barney Meyer will be giving a presentation on drones.
He will also present an illustrated talk about Melbourne's old and new panoramic photographers, including some of the early photographers.
Please join us in person at the Clubrooms,

International Womens Day Exhibition
Saturday 18 March, 11am-3pm
Sunday 19 March 11am-3pm
Come support the exhibition, bring your friends!
For exhibitors, prints can be collected on Sunday 19 March, 3pm-4pm or
Thursday 23 March, 7pm-8pm

Digital Editing Group
Monday 20 March, 8:00pm
As the level of understanding of digital editing techniques varies enormously among members, we will aim to provide information to members at basic, intermediate and advanced levels in each meeting.
Street Beats Photo Exhibition

With 59 photographers represented in this exhibition, we can't list them but they do represent a veritable who's who in the world of Australian Street photography – including some MCC members.
22February – 19 March
Wolfhound Gallery
Level 1, 386 Brunswick Street, Fitzroy
See website for opening hours
VAPS Information
VAPS CONVENTION & EXHIBITION 2023: COLAC
The VAPS Committee is pleased to announce this year's annual convention will be held 16-18 June in Colac. Registrations are open and Program details are on the VAPS website.
VAPS NEWSBRIEF
Monthly issues of VAPS Newsbrief are available online, published at the start of each month.
Editorial Committee: Sally Paterson / Mark Devaraj / Paul Dodd / Vitas Anderson
Email articles and news items for Weekly News to: newsletter.group@melbournecameraclub.org.au
Submission cut off: 12pm Saturdays
Material may be subject to editing for content and length
Include an image where possible