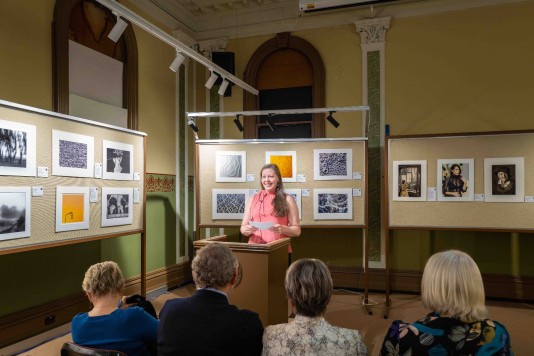 The 5th MCC International Women's Day Exhibition was officially opened on Thursday night – the 55-60 attendees were welcomed by MC Kaye Linsdell, Board Member and IWD Exhibition Committee member. The exhibition was officially opened by guest speaker Mieke Boynton, who delivered a very inspiring opening address (available on our website and opening night photos, link here).
Featuring nearly 100 works along the theme of 'The Female Gaze', this year's Exhibition celebrates the works of female club members and guests.
The exhibition will be open for a final weekend on 18-19 March, 11am-3pm. Note the exhibition will not be open over the Labour Day long weekend. We look forward to welcoming Members and friends to the exhibition.
Roster request
We have a few more spots on the roster if you can help out on 18-19 March at the Exhibition to welcome our visitors, we have 2 hour shifts available, click here to choose a time and date that suits. Thank you in advance.
Image: MCC IWD Exhibition Opening Event – Ruth Woodrow
VAPS Convention 16-18 June
Registration Open
Plans are well underway for this year's major event on the VAPS calendar – the Annual Convention, which is being held in Colac this year. Members of all affiliated camera clubs are invited to attend.
The Committee has organised a very interesting and informative group of presenters that will teach and inspire. There are a range of events including practical workshops that all who register can take advantage of over the weekend.
The Committee has put their combined talents and effort into bringing attendees another excellent annual event. Please seriously consider registering and attending. Putting your support behind the VAPS committee and the hard work they have already done will help ensure that this great event will continue in the years ahead.
All details including the Program and Registrations are available online, refer link.
Wednesday 15 March 7.30pm
Conceptual Group Meeting

First-time attendees are warmly welcome. Photographers don't need prior knowledge to get the most out of this meeting. Our Agenda:
Monthly optional exercise "An image I generated using AI"
Work in progress (images from Conceptual Group Members, and others)
Presentation: Four Photographers A-Z (Garrie and Bob): Richard Avedon, Maleonn, Nan Goldin, Anne Zahalka
Short Presentation: Mood Boards (Garrie)
Optional Exercise for April – Expression of Interest for the CP Group Exhibition
Thursday 16 March 8.00pm
Guest Speaker Club Member: Barney Meyer
Club Member Barney Meyer will be presenting on Drones, and Panorama Demonstration.
Barney Meyer, photographer and "Hidden Melbourne" website author, will present an illustrated talk about Melbourne's old and new panoramic photographers, including some of the early photographers of the likes of Walter Woodbury, the Paterson Brothers and Charles Nettleton.
Paying tribute to the city, Hidden Melbourne captures modern panoramic views from the old towers where these old guys stood, using digital cameras to capture multiple frames which are stitched to form a continuous panoramic view.
The time-line of image making and photographic technique is illustrated by panoramic views within Melbourne taken from the same location over a period of 176 years, starting in 1841.
Gaining access from historic locations like Xavier College (1872), Melbourne High School (1927) and Melbourne University (1853), it is possible to capture gigapixel aerial views using a modern-day drone, digital camera, or alternatively, the views taken from their historic towers.
Barney is founder of 'Hidden Melbourne Virtual Tours'.
Barney is also a Power Electronics Design Engineer, historian and virtual tour creator, as well as an accomplished photographer. He is a new member of the Melbourne Camera Club and is keen to talk about his work and interests.
Celebrating MCC Members' Photography Success

If you have any recent results you would like to share to inspire other members in their photography journey, please email the Newsletter team so the website page can be updated and shared in the Weekly News.
MCC does not endorse any competitions/exhibitions that are listed, the content is for informational purposes.

Portrait Group
Monday 6 March, 7:00pm
Monthly meeting of the Portrait Group – an excellent chance to practice portrait photography skills, learn about studio lighting and grow your portfolio.
The meeting is a practical photography session. We use flash lighting in a studio setting. We will have 2 sets operating and 2-3 models, so there will be ample opportunity to shoot.

Mid-Week Outing
Tuesday 7 March, 9:30am
Nature Exhibition Geelong
Details sent via mailout on Mon 20th Feb 2023

Introduction to Photography Course
Tuesday 7 March, 7:30pm
Session 5 for Registered Participants

Grace Lock Group – What makes an appealing image?
Wednesday 8 March, 7:30pm
Meet at the Clubrooms to review images from the current International Women's Day Exhibition and discuss what makes an image appealing. How can I apply those same elements into my own photography practice?
Members are also invited to bring their own images for constructive feedback and discussion.

Print Competition
Thursday 9 March, 8:00pm
Set Subject: Serenity
Judge: Alli Harper
Competition Entry Deadline: Wednesday 8 March, 11.59pm

Photowalk – Moomba Festival
Sunday 12 March, 5:00pm
Join us for our March photowalk, we will be visiting the Moomba festival on the Yarra, including dinner/drinks then fireworks (optional).
Time: 4.50pm for 5.00pm start
Meeting location: Outside Hamer Hall, Arts Centre, 100 St Kilda Rd – across the bridge from Flinders St Station
Street Beats Photo Exhibition

With 59 photographers represented in this exhibition, we can't list them but they do represent a veritable who's who in the world of Australian Street photography – including some MCC members.
February 22 – March 19
Wolfhound Gallery
Level 1, 386 Brunswick Street, Fitzroy
See website for opening hours
VAPS Information
VAPS CONVENTION & EXHIBITION 2023: COLAC
The VAPS Committee is pleased to announce this year's annual convention will be held 16-18 June in Colac. Registrations are open and Program details are on the VAPS website.
VAPS NEWSBRIEF
Monthly issues of VAPS Newsbrief are available online, published at the start of each month.
Editorial Committee: Sally Paterson / Mark Devaraj / Paul Dodd / Vitas Anderson
Email articles and news items for Weekly News to: newsletter.group@melbournecameraclub.org.au
Submission cut off: 12pm Saturdays
Material may be subject to editing for content and length
Include an image where possible