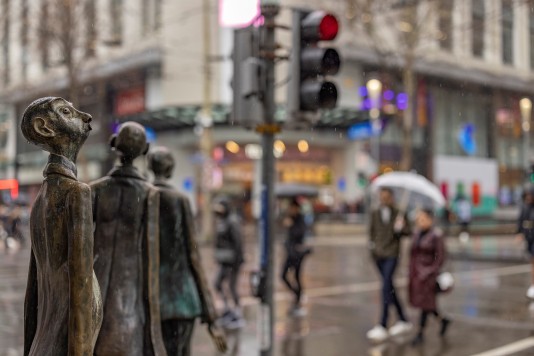 Welcome to the final week of this year's events at MCC.
Monday night is the last Portrait Group meeting for the year – an outdoor event at Docklands, further details below. The Mid-Week group will be holding a walk around South Melbourne on Tuesday at 10.30am.
The End of Year Awards and Social will be held this Thursday 8 December, starting at 8pm.There will be no Zoom this week, we look forward to welcoming everyone to the Clubrooms.
Award presentations will be followed by our End of Year Social event.
The social is a self-catering event, so we ask you to please bring a plate of food to share and / or drinks.
So come along, bring your partner, family and friends, and help celebrate our club and another great year of photography fun!
Note: if you entered the EOY Print Competition, don't forget to bring your satchel / bag to take your prints home at the end of the evening.
Image: EOY Entry: Open category: Daping Chen – Rainy Season
VAPS Interclub Competition 2023
Every year the Melbourne Camera Club organises a club entry into the VAPS Interclub Competition and the Club has been very successful over the years.
Entries include both prints and PDIs – see the VAPS website for further details: link.
The closing date for the Club to enter is in March 2023, so it is extremely important to get images submitted well before then.
Please send your entries to Jim O'Donnell, External Competition Coordinator, at jim.odonnell@melbournecameraclub.org.au
If you have Prints in this year's End of Year Competition that you would like to be considered for VAPS, you are welcome to hand them over to Jim at this week's EOY Awards Night on Thursday, rather than taking them home.
Tax Deductible Donations – Final reminder!!

Back in 2017 the Government announced reforms to the administration of organisations with deductible gift recipient (DGR) status – MCC is one such organisation. Since then legislation has been enacted which requires organisations with DGR status to be registered as a charity. Unfortunately MCC does not meet the requirement to register as a charity and consequently the Club will lose its DGR status from 14 December 2022.
Donations to Club up until 14 December 2022 will be tax deductible so you still have time to make a donation that will benefit both the Club and yourself.
You can donate by credit card or directly into the MCC's Public Fund bank account, details on the website, click here.
If you require further information please email David Sherwood, treasurer@melbournecameraclub.org.au

Portrait Group
Monday 5 December, 6pm
Outdoor shoot – around Docklands locations, refer email sent 1 December.

Mid-Week Outing

Tuesday 6 December, 10.30am
South Melbourne Walk. Details were sent via email on 16 November.
If you would like further information contact Jim Weatherill.

End of Year Awards Night and Social Event (No Zoom)
Thursday 8 December, 8pm
Awards are made for the best images in each section of the EOY Competition, and there are awards for the most successful monthly competition entrants, including Photographer of the Year for both A and B Grade.
Following the formal award presentations there will be a social event and time to look at the EOY images in the gallery, all are welcome, bring your partner, family and friends.

2023 Welcome BBQ

Thursday 2 February 2023, 6.30pm
MCC Members are invited to join the Board to welcome everyone back to the Clubrooms for our annual BBQ on the first Thursday in February. Further details to follow in the new year.
Following the BBQ will be promotion presentations by Members who were promoted from B Grade to A Grade at the End of Year Awards. Please join us at 8pm in the Gallery.
VAPS Information
VAPS CONVENTION & EXHIBITION 2023: COLAC
The VAPS Committee is pleased to announce next year's annual convention will be held 16-18 June 2023 in Colac. Program and registrations will be announced at the end of February on the VAPS website.
VAPS NEWSBRIEF
Monthly issues of VAPS Newsbrief are available online, published at the start of each month.
Interim Editorial Committee: Sally Paterson / Mark Devaraj / Paul Dodd
Email articles and news items for Weekly News to: newsletter.group@melbournecameraclub.org.au
Submission cut off of 9pm Friday
Material may be subject to editing for content and length
Include an image where possible