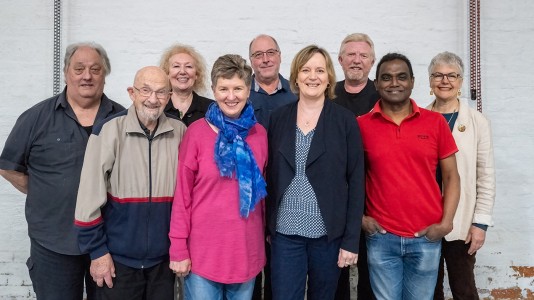 Thank you to Ruth Woodrow for the official portrait of the 2022/2023 MCC Board taken this week.
For members who may have not yet met some of the Board members, they are –
Left to Right: Colin Booth, Ian Bock, Colette Gaughran, Nicole Andrews, David Sherwood (Treasurer), Sally Paterson (Secretary), Paul Dodd, Mark Devaraj (President), Kaye Linsdell. Most of the Board members attend Thursday Club Nights, so please come along and say hi if you are new to the Club.
All reports presented at the AGM earlier this month are available in the Members section on the website.
Reminder that the second weekend of the inaugural Conceptual Photography Exhibition, "Zeitgeist" will be open at the Clubrooms next weekend, there is some really interesting work and well worth a visit!
Opening hours: 10.30am-3pm
Saturday 29 October
Sunday 30 October
Image Credit: Ruth Woodrow
Extra Photowalk for this month
Our second community photowalk for October will be photographing Mexican Culture and its Heritage at the Arriba Melbourne Mexican Festival. Time and weather permitting we can also walk around the surrounding streets of Flagstaff Gardens for any interesting street and architectural photography.
Food and Drinks will be available at the festival so we will not be meeting for dinner after our photowalk.
Date: Sunday, 30 October
Time: 2.00pm
Meeting location: Outside Flagstaff Station (Corner LaTrobe and William Streets)
Competition Committee:
Vacancies / Volunteer Opportunities

The Competition Committee is recruiting new members.
We are looking for regular Print and PDI competitors or members with intermediate and above experience in photography who would like to help run the monthly competitions. There are also opportunities to assist with inter club and external competitions that the Club is involved in.
Joining a committee at MCC is a fantastic way to contribute to the Club and network with other members.
To express your interest in joining the Competition Committee, or ask any questions, please contact the Competition Committee Chair, Ruth Woodrow at ruth.woodrow@melbournecameraclub.org.au.

*Zoom only* PDI Competition
Thursday 27 October, 8pm Zoom only
The Set Subject for this month is 'Architecture'. This month's PDI Judge is Andrew Campbell.
Note that this is a Zoom only event, no attendees at the Clubrooms.
Link: Join Zoom Meeting
Meeting ID: 850 7139 8013
Passcode: 946956

Zeitgeist Conceptual Exhibition
Final weekend: 10.30am-3pm
Saturday 29 October
Sunday 30 October
Adrian Whear – Bangladesh Presentation in 2020
For those that remember, in 2020 Adrian Whear presented to MCC on his stunning photography in Bangladesh. Read the review here.
At the time Adrian said he would let us know when a book of his street photography was available. Well the good news is that the book, entitled "Detour" is now available.
Please contact Adrian at adtamo@gmail.com for details.
Bayside Gallery – Threshold Exhibition
MCC Member Mat Hughes is participating at an upcoming exhibition at Bayside Gallery in Brighton.
'Threshold brings together the disparate practices of senior film maker/animator Dirk de Bruyn, photographer Guy Grabowsky, and photographer/printmaker Mat Hughes. These artists share an interest in constructing photographic and filmic imagery through analogue processes, manually engaging with the processing phase to create images that reveal the artists' encounter with the materiality of process.'
Opening event: 29 October 2022, 2pm – 4pm
Exhibition dates: 29 October – 18 December 2022
Gallery hours: Wed-Fri 11am-5pm, Weekends 1pm-5pm
Bayside Gallery, cnr Wilson & Carpenter Sts, Brighton
Wolfhound Gallery – 'October' Exhibition
'October is the month the Stock Market hates.
It's unpredictable and usually unpleasant.
Luckily the rest of us have so much more to worry about. But great artwork is intractable. It just keeps coming.'
Exhibition Dates 21 October-6 November
Opening Night Friday October 21, 6pm – 8pm
Wolfhound Gallery
Level 1, 386 Brunswick Street, Fitzroy
VAPS Newsbrief
All monthly issues of VAPS Newsbrief are available online.
Interim Editorial Committee: Sally Paterson / Mark Devaraj / Paul Dodd
Email articles and news items for Weekly News to: newsletter.group@melbournecameraclub.org.au
Submission cut off of 9pm Friday
Material may be subject to editing for content and length
Include an image where possible
Melbourne Camera Club © 2022
Club Location: 254-256 Ferrars Street, South Melbourne, VIC 3205
Postal Address: PO Box 1180, South Melbourne VIC 3205, Australia