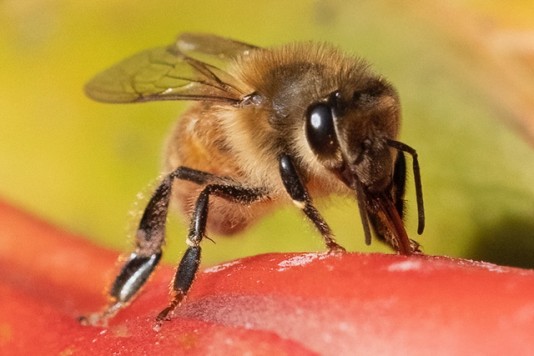 The warm early Spring weather yesterday brought out 18 Members and visitors to the Photowalk Community's Royal Botanic Gardens for the group's October photowalk. The gardens were busy with many people taking advantage of the beautiful sunny conditions. The weather brought not only people, but also the flowers, insects and birds. The walk commenced in early afternoon and concluded with dinner in Southbank. Keep an eye out out for our next photowalk which will be advertised in this newsletter, website and Facebook.
Image Credit: Mark Devaraj
Outcomes of the 2022 AGM
The 132nd Annual General Meeting of the members of the Melbourne Camera Club was held at the Clubrooms and on Zoom on 6 October 2022.

The new Board for 2022/2023 is:
President: Mark Devaraj
Hon Secretary: Sally Paterson
Hon Treasurer: David Sherwood
Vice Presidents: Paul Dodd, Nicole Andrews
Elected Members: Ian Bock, Colin Booth, Kaye Linsdell, Colette Gaughran
Club Subscriptions
As recommended by the Board the motion to keep current subscription rates unchanged for FY 2023 was unanimously passed.
Life Memberships
As recommended by the Board, the motion to elect Gary Richardson as Honorary Life Member was unanimously passed.
AGM Documents
Members can read the AGM reports including the Coordinators reports (available this week) on the website.
Mark Devaraj
President
Life Membership
Congratulations to Gary Richardson who was elected Honorary Life Member of Melbourne Camera Club at the AGM on Thursday.
Review Guest Speaker – Alexander Bogatyrev: From Father to Sports Photographer
Ever wondered what it takes entices photographers into world of sports photography?

We were lucky to hear fascinating insights into the world of sports photography from Alexander Bogatyrev (Alex), guest speaker at the MCC club night on 29 September.
Review Guest Speaker – Ruth Woodrow: Lockdown Images
Ruth Woodrow's Lockdown images are an important and playful document of those strange, surreal times that even now are hard to believe we actually lived through. Ruth, a well-respected member of Melbourne Camera Club (MCC) presented at the Club on 22 September.
Competition Results – Mosman Photography Awards
The winners were announced at the Mosman Photography Awards on Friday night – Congratulations to all the winners! We are happy to announce that Lesley Bretherton placed third in the Art Portfolio category, and Ruth Woodrow was awarded third place in the Landscape Portfolio category – Congratulations!!

Photo Discussion Group
Monday 10 October, 8pm

We have a night of discussion on all things photographic – prints, PDI, cameras books etc. You are may bring prints or photographs on a memory stick or a laptop to show on the large TV. You are also welcome to just join in the discussion.

Competition Entries Due
Wednesday 12 October, 11.59pm

Competition Entries close for the October Print and PDI Competitions.

Set Subject: 'Architecture'

Print Competition – Clubrooms only
Thursday 13 October, 8pm

Join us in person at the Clubrooms for this week's Print Competition, the set subject: Architecture. The judge is Heather Prince. There will be no Zoom event this week.

Nature Outing
Sunday 16 October, 10am

Nature outing to Truganina Park, Altona
Streets of South Melbourne Art Project
Inspired by the 1949 folio "Our Street", by South Melbourne artist, Maurie Carter, this project is a re-imagining of artistic social commentary.

Carter's images will be recreated in chalk on the streets of South Melbourne, so that they may connect with the community, and in the spirit of Carter, promote fellowship, peace and freedom.
The artist will create one image per month for five months. The project started on 2nd October, at the corner of Montague and Dorcas, which is just one block away from MCC. So much is dependent upon the weather, but towards the end of the first week of work for each image, things will be starting to look good, and finished over the weekend or the beginning of the second week.
Click on the link for the full information, dates and locations about the project, or pickup a flyer from MCC.
Diamond Valley Photographic Society (DVPS) Exhibition – final week!
Title: Lens.Life.Vision

The general public is cordially invited to this exhibition and is presented by the Diamond Valley Photographic Society. The works displayed are significant personal stories captured by each member reflecting a diverse range of experiences and photographic genres for your enjoyment. The Society is an extremely talented group of local enthusiastic photographers sharing their work and their passion for the Art of Photography.
Venue: Montsalvat, Barn Gallery, 7 Hillcrest Avenue, Eltham 3095
Dates: Tuesday 20 September 2022 to Monday 17 October 2022
Viewing during Montsalvat hours: Thursday to Sunday 10am-4pm
APS Live Event
Expert Photographer: Lisa Kurtz
The next 60 years of photography is going to be a wild ride! Strap yourselves in for an engaging and informative discussion around the future of photography.

Date: Wednesday 26 October
Time: 7.30pm, via Zoom
Tickets: $5 APS Members / $10 Non-APS Members
VAPS Newsbrief
All monthly issues of VAPS Newsbrief are available online.
Interim Editorial Committee: Sally Paterson / Mark Devaraj / Paul Dodd

Email articles and news items for Weekly News to: newsletter.group@melbournecameraclub.org.au
Submission cut off of 9pm Friday
Material may be subject to editing for content and length
Include an image where possible