Taking pictures is like tiptoeing into the kitchen late at night and stealing Oreo cookies. Diane Arbus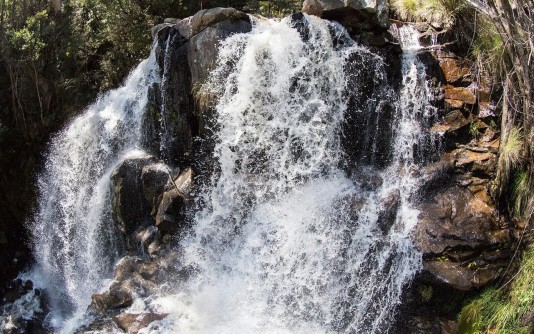 One of the notices this week is that for the Conceptual Photography Group's exhibition – Zeitgeist. It is good to see another Special Interest Group organising an exhibition particularly one that utilises such innovative assumptions about how a club exhibition will be managed.
---
Image credit: .Waterfall motion – Matthew Leane (Commended – Set Subject B Grade Print – 09 Jun 2022)
Zeitgeist
Expression of Interest Submission date extended to 3 July 2022
The Conceptual Photography Special Interest Group are excited to share news of their Inaugural Exhibition 'Zeitgeist' to be held in October 2022. Members of Melbourne Camera Club are invited to register their interest in exhibiting their conceptual work via the link below
Please:
Please feel free to contact the co-ordinators should you have any queries.
VIGEX International Photographic Print Salon 2022
VIGEX Inc is a small volunteer committee of photography enthusiasts, which has been running international photographic salons in Geelong since 1980.
Entries are now being accepted for the 21st VIGEX International Photographic Print Salon 2022. VIGEX is an approved exhibition (competition) with FAIP, PSA and APS.
Entries close: Sunday 21 August
An exhibition of all accepted images will be shown at the Geelong Library and Heritage Centre: 15-30 October.
In addition, VIGEX will bring a display of work to MCC on Thursday 10 November, as has been done for the last few years. This display will include a small set of the best print images, as well as a slideshow including all awards and the Australian acceptances.
For full information and online entries: http://www.vigex.org.au
MCC Introduction to Photography Course – Early Bird Enrolments Open
Each year, MCC runs two courses of its highly successful Introduction to Photography Course. The next course will commence on Tuesday 2 August 2022.
This course is ideally suited to inexperienced photographers or any photographers who wish to develop or revise basic skills in digital photography. You may be moving from a phone camera or point and shoot camera to something more advanced like a digital SLR or mirrorless camera, or simply wish to get more out of your photography.
The Introduction to Photography Course consists of five lessons and three workshops, held over a 5-week period. The lessons are held at the MCC Clubrooms on Tuesday evenings, 7:30pm-9:30pm. Practical workshops are held on Sunday mornings from 9:30am until early afternoon.
Early bird pricing ends 30 June, existing members are welcome to sign up, and please also recommend the course to family or friends who might be interested. The course fee includes 12 months membership of MCC.
Any queries please contact Graeme Diggle, Course Coordinator intro.course@melbournecameraclub.org.au
Tax Deductible Donations before 30 June!
As members may be aware, we have a public fund to raise funds for the Club to put towards specific purposes in accordance with our Constitution. In 2020 we raised funds to purchase the projector for the gallery, and thanks to some generous donations, we met the $12,000 target.
We appreciate that not everyone is in a position to support right now, and are truly grateful for donations of any size.
Currently donations greater than $2.00 to the public fund are tax deductible and a receipt will be issued on receipt of a donation. The public fund Bank account and further details are on the Donations page on the website: https://melbournecameraclub.org.au/donations/
From December 2022 changes have been made to legislation which means that the Club will no longer be able to provide donors with tax deductible receipts for donations.
For any queries please contact the Treasurer: treasurer@melbournecameraclub.org.au
Photography Exhibition: 'Men with Heart'
Members and friends of MCC are invited to visit the 'Men with Heart' exhibition which is being held at the Clubrooms from 12 June to 3 July.
'A powerful and moving, multi-award winning exhibition shot over two decades exploring what defines healthy masculinity in Australian culture today'
Open weekends: June 18-19, 25-26 and July 2-3 (open 10.30am-3pm)
What's On Outside the MCC
Exhibitions and Competitions
Body Performance
The Wolfhound Gallery is a dedicated photographic gallery which launched shortly before COVID struck. We've nevertheless hosted several exhibitions featuring both emerging & established photographers and we're currently exhibiting 6 photographers' portraiture & fashion work.
The show opened on the 17th June with a final viewing day on Sunday the 3rd July.
Open Wed- Sun 12noon till 6pm.
We endeavour to display a new show every 3 or 4 weeks and are open to all artwork of a photographic nature.
Website :www.wolfhoundgallery.com.au
Instagram : https://www.instagram.com/wolfhound_gallery/?hl=en
Location : level 1 / 386-388 Brunswick Street, Fitzroy 3065
Entry is free and we're also open to proposals for future exhibitions.
VAPS Newsbrief
The April 2022 issue of VAPS Newsbrief is now available online.
Virtual Meetings – Video Library

Video replays of most of last year's Thursday night Guest Speaker's presentations and PDI Competitions are available on the Members / Video Library page on the website.
To access the Members section you will need to login first. Any issues with your login please contact us: webcontent@melbournecameraclub.org.au