The eye should learn to listen before it looks. Robert Frank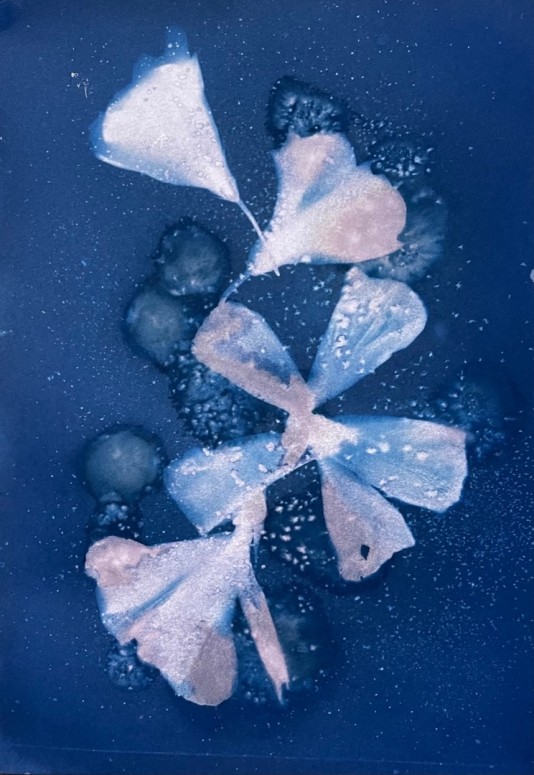 Thanks to Wendy Currie for offering a quote for the header plus one of her experimental cyanotypes. Many club members might not know that, as a photographic club, we are a center of excellence in the alternative photography area in Australia. Members work with many areas of what is called Alt Processing – vanDyke, Cyanotype, Gum Bichromate, Carbon Transfer & liquid emulsion to mention a few. The Analogue Group will have a display dedicated to this in their annual exhibition.
---
Image credit: Wendy Currie – Hibiscus – 'Wet Cyanotype' – Native hibiscus flower, sprinkled with salt & sprayed with water before exposing to the sun.
Competition Committee: Change to Competition Entry Submission Date

The submission date for the electronic versions of both Print and PDI entries are to be changed to the Wednesday night before the Print Competition, at 11:59pm.

This will allow the stewards time to identify potential duplicate images prior to the Print Competition night and prior to images being sent to the judge for PDI.
If a member puts up a print image that has not been submitted electronically the night before, then it will be moved to the Image Critique section.
We believe this will make the competitions fairer for all entrants.
Tax Deductible Donations before 30 June!
As members may be aware, we have a public fund to raise funds for the Club to put towards specific purposes in accordance with our Constitution. In 2020 we raised funds to purchase the projector for the gallery, and thanks to some generous donations, we met the $12,000 target.
We appreciate that not everyone is in a position to support right now, and are truly grateful for donations of any size.
Currently donations greater than $2.00 to the public fund are tax deductible and a receipt will be issued on receipt of a donation. The public fund Bank account and further details are on the Donations page on the website: https://melbournecameraclub.org.au/donations/
From December 2022 changes have been made to legislation which means that the Club will no longer be able to provide donors with tax deductible receipts for donations.
For any queries please contact the Treasurer: treasurer@melbournecameraclub.org.au
Photography Exhibition: 'Men with Heart'
Members and friends of MCC are invited to visit the 'Men with Heart' exhibition which is being held at the Clubrooms from 12 June to 3 July.
'A powerful and moving, multi-award winning exhibition shot over two decades exploring what defines healthy masculinity in Australian culture today'
Open weekends: June 18-19, 25-26 and July 2-3 (open 10.30am-3pm)
Monday June 20 7.00pm
The Digital Editing Group meeting for June will be a zoom only event at 8pm on Monday 20 June.
Jim O'Donnell has kindly offered to be our presenter for the evening. He intends to cover the following:
Topic 1- Soft Proofing
Topic 2 – Making digital backgrounds to improve your photos

Zoom details were emailed to members on Friday 17 June. If you did not receive the link, please email me at digital.editing@melbournecameraclub.org.a
Gary Richardson
What's On Outside the MCC
Exhibitions and Competitions
World Press Photo Exhibition
Magnet Galleries is hosting the 2022 World Press Photo Exhibition from 10-30 June. For further information, please see:
https://magnet.org.au
https://www.worldpressphoto.org
VAPS Newsbrief
The April 2022 issue of VAPS Newsbrief is now available online.
Virtual Meetings – Video Library

Video replays of most of last year's Thursday night Guest Speaker's presentations and PDI Competitions are available on the Members / Video Library page on the website.
To access the Members section you will need to login first. Any issues with your login please contact us: webcontent@melbournecameraclub.org.au