Welcome to Melbourne Camera Club!
The Melbourne Camera Club is a vibrant community of photographic enthusiasts run by volunteers who donate their time in making the club rewarding for all members.
The club has its own facilities and is able to provide members with a diverse range of services including a gallery, studio and a darkroom.
The club aims to assist and encourage individuals in their creative photographic pursuits. We encourage the transfer of skills and the interchange of ideas through meeting, workshops and field work.
There are a variety of special interest groups ranging from high level digital through to analogue work. These groups meet regularly and are very welcoming of new attendees.
We have Print and Electronic Digital Image competitions, a busy Exhibition program, and also generate a weekly e-newsletter for members.
Visitors are welcome to attend meetings and Club events – check out What's On.
The club engages in a number of Community-based activities. These range from specialist courses to pro-bono consulting work on photographic issues.
We look forward to meeting you!
---
History of MCC
The Melbourne Camera Club has a history of continuous activity since it was founded in 1891, making it one of the oldest photographic clubs in Australia – click here to read more about our history.
Video - Melbourne Camera Club Building
Photography Exhibition: Emerald Hill – Then and Now
Celebrating 130 years of Melbourne Camera Club
Click here to view our virtual exhibition during Open House Melbourne weekend.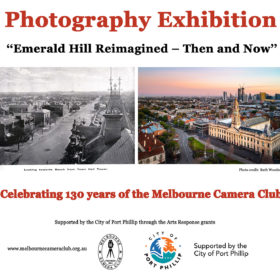 The Exhibition will then be open to the public once the lockdown is lifted:
Saturday 7 August 10am – 4pm
Sunday 8 August 10am – 4pm
Saturday 14 August 10am – 4pm
Sunday 15 August 10am – 4pm
At Melbourne Camera Club Gallery, corner Ferrars & Dorcas Streets South Melbourne
A selection of images will also be on display at Port Phillip Heritage Centre and Emerald Hill Library 195 Bank Street, South Melbourne
Dates and times to be confirmed
Visitors are Welcome!
Thinking of joining us? Click here for membership and visitor information
---
Clubrooms
Melbourne Camera Club
254-256 Ferrars Street
South Melbourne VIC 3205