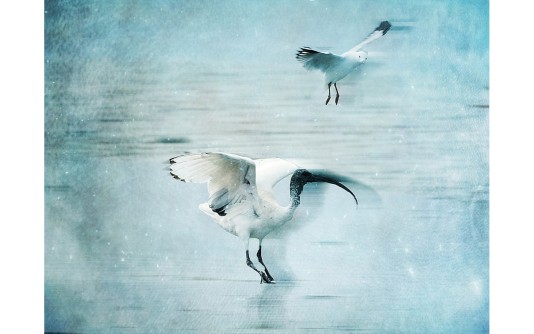 It was a busy weekend at the Clubrooms with the Introduction to Lightroom Basics Course held on Saturday and the Pinhole Photography Workshop today.
Thank you to everyone involved in the Introduction to Lightroom Basics Course, particularly the presenters Peter King, Greg Thomas, Mark Devaraj, with Yvette Pethebridge assisting the participants and Sally Paterson organising the morning & afternoon teas. The course will be run again in October.
If you are interested in joining the Education Committee to present or organise workshops for our members, please contact Mark Devaraj, email: president@melbournecameraclub.org.au
Image: Djiwert-djiwert dreaming – James Mexias (Commended – Set Subject A Grade Print – April 2023)
Welcome to our newest members!
We have had a lot of new members join the club in the last few weeks, if you see them at club events and meetings, please make them feel welcome.
Anton Surov
Glauco Urbanucci
Michael Bennett
Jess Holmes
Maarten Grabandt
Adélaïde Bernard
Nick Schoeffler
Jeanie Thorpe
Dominic Hegerty
Currently we have 321 members.
Nature Exhibition: Invitation to Exhibit
Closing next week!!
Entries Close: Sunday 7 May 2023, 11.59pm
Prints to be delivered: Thursday 18 May, 6.30pm-8pm
The Melbourne Camera Club is pleased to be running its third nature exhibition featuring the works of club members and invited guests. The theme for this year's exhibition is 'Natural Connections'.
We are inviting all members to be a part of this year's Nature Photography Exhibition, which will be held 26 May – 4 June 2023.
For this exhibition we are looking for two or three of your images that work together. They may be themed by subject, colour, texture or any other connection.
Images for the purposes of this exhibition, will need to follow the nature definition as determined by Australian Photography Society (APS). Please refer to details on the Terms & Conditions website page. Entrants are encouraged to contact the Exhibition Committee if they need clarification of the nature definition.
*Image: Mantis by Frances Egan
Advertisement: Photography Workshop
Chris Bray offering $1000 OFF ALASKA this August, KENYA this September!
Join Australian Geographic photographer and global Lumix ambassador Chris Bray on his small-group photo tour to Alaska this August, or Kenya in September! There's only 2 spots left on both tours, and he's offering Melbourne Camera Club members $1000 OFF!
In Alaska, capture photos of bears, puffins, whales, otters, glaciers and more, unhurried & away from the crowds aboard a private expedition ship where Chris will even be driving the zodiacs to get you into the perfect position, running Lightroom tutorials and helping with settings as you sit beside bears pouncing on salmon so close they'll splash you!
Or, discover the magic of Africa on Chris's 24th tour to Kenya! His itinerary, refined over the last 13yrs, is unbeatable: Witness the wildebeest migration, fly doors-off over a lake carpeted in flamingos, stay on a private island in a lake filled with birdlife and hippos, tick 'The Big Five' and more!
MCC does not endorse any workshops that are listed, the content is for informational purposes only.

Portrait Group
Monday 1 May, come in at 7pm to help with setup, start shooting 8pm
Portrait Group is suitable for photographers of all abilities and experience levels – you just need a modern digital camera that has a hot shoe on the top. The Portrait Group coordinators are willing to give you as much or as little help as you need, whether it be understanding studio flash
lighting, how to best frame your shot or how to direct a model, as examples. Just ask.
Cost: $10 to get a Shooters Licence – please bring a $10 note!

Mid-Week Outing
Tuesday 2 May, 10:30am
Hellenic Museum
Australia's only museum dedicated to preserving and showcasing Greek art, history and culture.
Location – 280 William Street, Melbourne in the old Royal Melbourne Mint.
Entry fee – seniors $7, adults $12.
We will meet for coffee etc. at 10.30 am at the Basil with Thyme café, 271 William Street, which is across the road from the Museum.
Lunch will be at 12.30 pm at The Mint, a café beside the Museum, in William Street.
Details sent in mailout 21 April

Tracey McIrvine, Visual Arts Manager at Gasworks Art Park
Thursday 4 May, 8:00pm
Tracey will address the overall theme "how photography as an artistic medium fits into the artwork now" and about her journey as an Arts Manager. For over 20 years Tracey has focused on three major goals in the arts, with the majority of this time focussed on artists and groups in the City of Port Phillip. Tracey's first goal was to develop the community profile of a large, commercial art gallery while managing the business to achieve creative and financial goals for all concerned. The second is to continually impart crucial professional development skills and 'The Mechanics of Realism' to arts practitioners.
Please join us in person at the Clubrooms, or via Zoom. Members can find the link in the weekly newsletter.

Mat Cutting Workshop
Saturday 6 May, 10am-12pm
Come along to learn 2 methods of how to cut mats to display your photographs for exhibition or for home.
Please bring along at least 3 images to cut a mat for. Mat sheets available for purchase through the Club for $20 – enough for 4 images.
Important: RSVP required – see Read more button below
APS Photo Walk Day 2023

MCC Members are welcome to participate individually in the APS Photo Walk Day 2023. Registrations are open and APS invites all Australian Camera Clubs and individuals to participate in this exciting and fun-filled event.‍
Schedule
Wednesday 3 May: Guest Presenter online 7:00pm to 8:00pm
Saturday 6 May: Photo Walk Day *images must be captured on this date
Monday 15 May: Images need to be uploaded
Wednesday 24 May: Results announced (online event)
Wolfhound Gallery – Zodiac Exhibition by Image Chasers Group

Ancient Symbols – Modern Twists
15 Melbourne photographers reimagine the Zodiac with interpretations that are playful, mysterious and investigative. Several MCC members are exhibiting images.
April 13 – May 8
Wolfhound Gallery
Level 1, 386 Brunswick Street, Fitzroy
See website for opening hours.
VAPS Convention 16-18 June
Registration Open
Plans are well underway for this year's major event on the VAPS calendar – the Annual Convention, which is being held in Colac this year. Members of all affiliated camera clubs are invited to attend.
All details including the Program and Registrations are available online, refer link.
VAPS Newsbrief
Latest Issue
Monthly issues of VAPS Newsbrief are available online, published at the start of each month.
Celebrating MCC Members' Photography Success

If you have any recent results you would like to share to inspire other members in their photography journey, please email the Newsletter team so the website page can be updated and shared in the Weekly News.
MCC does not endorse any competitions/exhibitions that are listed, the content is for informational purposes.
Editorial Committee: Sally Paterson / Mark Devaraj / Paul Dodd / Vitas Anderson / Helen Lang
Email articles and news items for Weekly News to: newsletter.group@melbournecameraclub.org.au
Submission cut off: 12pm Saturdays
Material may be subject to editing for content and length
Include an image where possible
Melbourne Camera Club © 2023

254-256 Ferrars St




South Melbourne

,

VIC

3205




Australia