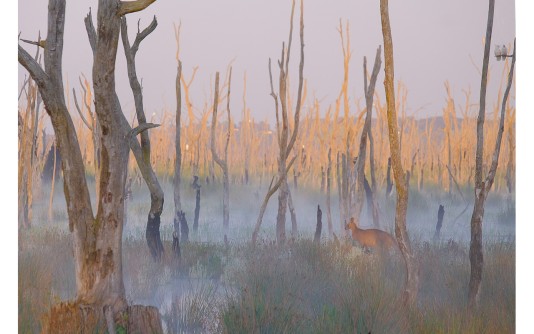 Just a reminder that entries close midnight this Wednesday 2 November for the Club's annual End of Year Competition. All entries are to be uploaded to the competition portal and Prints are to be delivered to the MCC Clubrooms this Thursday 3 November between 7-8pm, or prior to this date by arrangement with the Competition Committee.
Image Credit: Foggy wetlands – Kaye Linsdell (Best – Open B Grade Print – 13 Oct 2022)
Members Feedback / Survey

As part of the Board's planning for the year ahead, we would like to invite members to participate in a short survey so we can understand more about what members are interested in learning, and contributing to the club. All responses are anonymous.
The survey will close on Wednesday 30 November.
MCC Members VIGEX success

A number of MCC members enjoyed success at the recently held VIGEX exhibition in Geelong recently.
Sally Paterson, Margaret Huxtable, Nicole Andrews, Anne Shellard and Lesley Bretherton have been awarded with medals or ribbons marking their success. At the awards ceremony held on Saturday 15 October, Margaret and Sally were presented with their awards. Refer to the link below from the award presentations taken by Jim Weatherill.
The VIGEX team will bring a display of work to MCC next Thursday 10 November, as has been done for the last few years. The evening will include a small set of the best prints, as well as viewing of the slideshow which includes all awards and acceptances. The remaining couple of MCC awards will also be presented to our members who didn't attend the event in Geelong.
Queenie Gatt Award: Call for Nominations
The Queenie Gatt Trophy is a perpetual trophy that was awarded by Charles Gatt in memory of his late mother Queenie Gatt. As announced at the time, the Board was deeply saddened to hear of the passing of Charles Gatt in a car accident in 2021.
Nominations are now open for the Queenie Gatt Award for 2022, in special memory of Charles Gatt. The award is to honour MCC Members for their non-photographic work in support of the Club.
If you would like to nominate a Member for this award (Board members are not eligible), please email President Mark Devaraj with details including reasons why you think that person should be honoured.
If you happen to know any members of the Gatt family, please let us know.
Email: president@melbournecameraclub.org.au
Nominations close Monday 21 November.
End of Year 2022 Competition

Entries close midnight this Wednesday 2 November for the Club's annual End of Year Competition. All entries are to be uploaded to the competition portal and Prints are to be delivered to the MCC Clubrooms this Thursday 3 November between 7-8pm, or prior to this date by arrangement with the Competition Committee.
There will be a Gallery Exhibition during the weekend of 3-4 December of the EOY Prints, with opening night on Thursday 1 December. If you are available to man the exhibition over the weekend, please take a moment to register on the roster on the website, link here. Sessions are from 10am-1pm or 1pm-4pm. Any questions contact the Competition Committee Chair, Ruth Woodrow ruth.woodrow@melbournecameraclub.org.au.
The Awards night will be held on Thursday 8 December. Awards are made for the best work in every section and there are awards for the most successful monthly competition entrant, including Photographer of the Year for both A and B Grade. Following the formal award presentations there will be a social event and time to look at the EOY images in the gallery, all members and families are welcome.
VAPS Links
iPhone Photography Presentation
For the interest of club members, VAPS have circulated the following link – video and notes from a recent iPhone Photography presentation, with thanks to Lyn Haywood.
Link to AJPA website to view the video
Geelong Art Society
Members are invited to enter the upcoming art show that the Geelong Art Society is hosting with Rotary at the Art Society gallery in Geelong West. The exhibition is 'The Environment – My Place', they are asking artists and photographers to showcase their visual response to the natural environment.
Entries are extended past the deadline of 31 October as the organisers are keen to have a strong photographic representation at the show. If you are interested please contact Michele Karakasch, Geelong Art Society
Email: mkarakasch@gmail.com
Event Photographer Wanted: 19-20 Nov
The Eltham and District Winemakers Guild's main event is the Eltham Wine Show. Now in its 53rd year the Eltham Wine Show is widely recognised as the premiere Australian wine show for artisan winemakers, both in the number of entries and the quality of the judging. This year we are looking for an MCC member to document the show with images to be used in our newsletter, website and promotional material. The wine show is a 2 day event, this year the 19th and 20th November, which is held at the Veneto Club, Bulleen Rd, Bulleen (quite close to the Eastern Freeway exit). The hours will be:
Judging day Saturday 19 November: 09:00 to 15:00
Public open day (tasting) Sunday 20 November: 10:00 to 14:30
Requirements:
Photograph the activities taking place at the wine show.
Coverage by 1 person both days (can be a different person each day).
The images should be purely reportage unless requested otherwise by the intended subject(s).
Available light only (quite variable in quality and quantity throughout the venue).
Be aware of what's happening in your immediate environment so as not to obstruct any other activities.
The photographer will be credited wherever their images are used.
Interested? Contact MCC member Wayne Harridge
Phone 0408 031 581
Email wayne.harridge@structuregraphs.com
Competition Committee:
Vacancies / Volunteer Opportunities

The Competition Committee is recruiting new members.
We are looking for regular Print and PDI competitors or members with intermediate and above experience in photography who would like to help run the monthly competitions. There are also opportunities to assist with inter club and external competitions that the Club is involved in.
Joining a committee at MCC is a fantastic way to contribute to the Club and network with other members.
To express your interest in joining the Competition Committee, or ask any questions, please contact the Competition Committee Chair, Ruth Woodrow at ruth.woodrow@melbournecameraclub.org.au.

Mat Cutting Workshop
Saturday 5 November, 10.30am
Come along to learn how to cut mats to display your photographs for exhibition or for home.
Please RSVP: Email New Member Group

Portrait Group
Monday 7 November, 7pm
Bayside Gallery – Threshold Exhibition
MCC Member Mat Hughes is participating at an upcoming exhibition at Bayside Gallery in Brighton.
'Threshold brings together the disparate practices of senior film maker/animator Dirk de Bruyn, photographer Guy Grabowsky, and photographer/printmaker Mat Hughes. These artists share an interest in constructing photographic and filmic imagery through analogue processes, manually engaging with the processing phase to create images that reveal the artists' encounter with the materiality of process.'
Exhibition dates: 29 October – 18 December 2022
Gallery hours: Wed-Fri 11am-5pm, Weekends 1pm-5pm
Bayside Gallery, cnr Wilson & Carpenter Sts, Brighton
VAPS Newsbrief
All monthly issues of VAPS Newsbrief are available online.
Interim Editorial Committee: Sally Paterson / Mark Devaraj / Paul Dodd
Email articles and news items for Weekly News to: newsletter.group@melbournecameraclub.org.au
Submission cut off of 9pm Friday
Material may be subject to editing for content and length
Include an image where possible