Summary
Ruth Woodrow's Lockdown images are an important and playful document of those strange, surreal times that even now are hard to believe we actually lived through. Ruth, a well-respected member of Melbourne Camera Club (MCC) presented as one of Australia's Thursday night expert photographers at the Club on 22 September 2022.
Semiotics of the street
While we might obsess about mastering the technicalities of photography (and my god there are so many) we might at the same time neglect opportunities to play. Techniques are rule-based and designed to achieve particular outcomes. Play is … well … open-ended, self-directed and above all, for the fun of it. Play arises from our imagination.
By way of example, Ruth Woodrow's Lockdown images inspire us to reconsider the importance of play and invite us to bring playfulness into our work.
Ruth's presentation showcased the images she made during a 3 month period during Melbourne's first lockdown in 2020.
It was during this strange time that Ruth, equipped with her Leica and accompanied by her husband, roamed the relatively deserted inner city streets of their neighbourhood.
You tend to notice things when the streets are deserted. For Ruth, it was the signs and symbols along her path and the intrusion, and regular beat of her feet that caught her attention. She played with the idea of positioning her feet neatly in front of various signs and symbols inscribed along her path – a silhouette of a mother wheeling a pram, a stop sign … Before long Ruth noticed "that I had hundreds of these images." Building a 16 x 16 grid canvas in photoshop she organised the images into a collage based on the colours of the rainbow that petered out to grey. Ruth commented that this arrangement: "talks to me of the gloss and excitement of early lockdown fading into what we now think of as the new normal."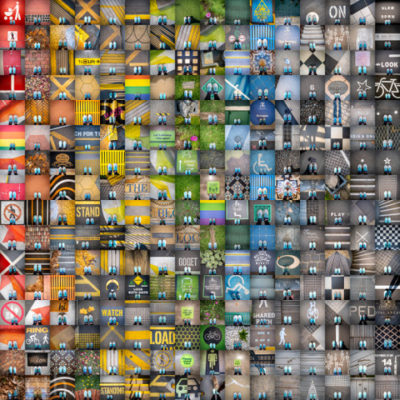 I wonder if the grey also included something of Ruth's response to 'the forgotten people' and the uncertainties of the time – people at soup kitchens, workers assembling a morgue (later converted into a vaccination clinic when deaths were not as many as first anticipated) – and the 'new work spaces' of people in the front rooms on the porch working from home.
Another award-winning photograph and perhaps her signature piece made during this period is of a multicoloured latticed seat and background. A twist of red and white police tape prevents the area from being used. The image bursts with colour. Ruth said, "To me, this image captures lockdown in its entirety". It's "… Reminiscent of the freedoms that we have lost, but also still hopeful as the barrier tape is clearly temporary."
On the surface, Ruth's images are simple, clean and beautifully composed. It takes a sophisticated eye to pare away complexity to get to the essentials of something. And, perhaps it takes a pandemic too. But essentially it takes a playful spirit to make images that bring hope and a sense of being able to enjoy the possibilities of the moment, no matter how dire or uncertain. I commend Ruth's presentation to you.
By Helen Lang
The video will available on the Members Video Library page