Vision is the art of seeing what is invisible to others. – Jonathan Swift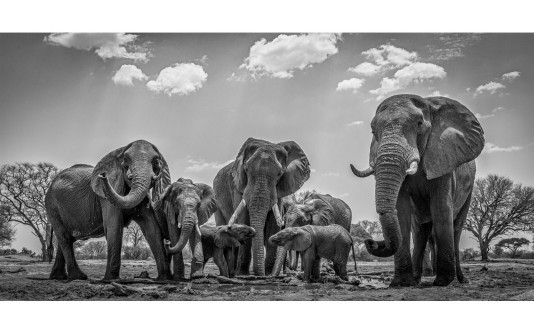 You may have noted that the header for the newsletter now includes a quote related to photography and the visual arts. If you have one that you think is a gem, feel free to send it in for possible inclusion.
---
Image credit: Russell Spence – African Elephant Family. (EoY2021.Image of the Year.)
Volunteer Opportunity: Archives Committee
The Board would like to thank outgoing Archives Committee Chair Ken Bretherton for his contribution to reorganise and catalogue the MCC collection of prints over the last few years.
We are seeking volunteers from the membership to form an Archive Committee. Volunteering gives members an opportunity to network with others and is a fantastic way to contribute to the success of the Club.
Expressions of interest or nominations/suggestions, please email Sally Paterson, Secretary secretary@melbournecameraclub.org.au
Stairwell Exhibition Coordinator
The Competition Committee is looking for someone to volunteer to be the Stairwell Exhibition Coordinator. This person is responsible for organising the awarded prints from each print competition night to be put into frames and hung in the stairwell. Typically, there will be a few people at the end of the evening that will be willing to assist. To express interest, or to ask for further information, please contact the Competition Committee Chair, Ruth Woodrow – ruth@angrybluecat.com
Emerald Hill Reimagined – Then and Now Exhibition
After being shut down twice last year due to COVID lockdowns, we have decided to mount this exhibition from Thursday 31 March and the following two weekends, 2-3 April and 9-10 April. More details on the website at: https://melbournecameraclub.org.au/emeraldhill2021/
Mat Boards For Sale
MCC has received a donation of some pre-cut mat boards that we are offering for sale to Members.
The mat boards are assembled with backing board and have pre-cut windows in 3 different sizes.
Colour: White
Outside dimensions: 16 x 20 inch
Internal cut outs: (1) 11×14" (2) 12×16" or (3) A3 size
Note that the cut outs are a few millimetres less than the above sizes, which allow the printed image to overlap slightly
Price: $10 each, payment cash or via internet banking to MCC bank account
Further details in the Members section on the website: https://melbournecameraclub.org.au/members-only-matboards/
Members who would like to purchase please email the Secretary to arrange, with pickup ideally on Thursdays at 7.45pm from the Clubrooms.
There will be a sample to view in the Gallery at Thursday club night events.
Email: secretary@melbournecameraclub.org.au
What's On Outside the MCC
Exhibitions and Competitions
Reimaginings
A Photography Exhibition from the Creative Collective

Gaye Beal, Lesley Bretherton, Ralph Domino and Renée Sterling
Jasper Hotel Arts Space – 17 March – 28 May 2022
489 Elizabeth Street, Melbourne, 3000.
Reimaginings presents the work of four creative photographic artists Gaye Beal, Lesley Bretherton, Ralph Domino and Renée Sterling, who share an interest in conceptual photography. Each artist depicts places, nature and objects in their own way, resulting in images that are original colourful, abstract and at times, intriguing.
VAPS Newsbrief
The February 2022 issue of VAPS Newsbrief is now available online.
Virtual Meetings – Video Library

Video replays of most of last year's Thursday night Guest Speaker's presentations and PDI Competitions are available on the Members / Video Library page on the website.
To access the Members section you will need to login first. Any issues with your login please contact us: webcontent@melbournecameraclub.org.au