Of course, there will always be those who look only at technique, who ask 'how', while others of a more curious nature will ask 'why'. Personally, I have always preferred inspiration to information. – Man Ray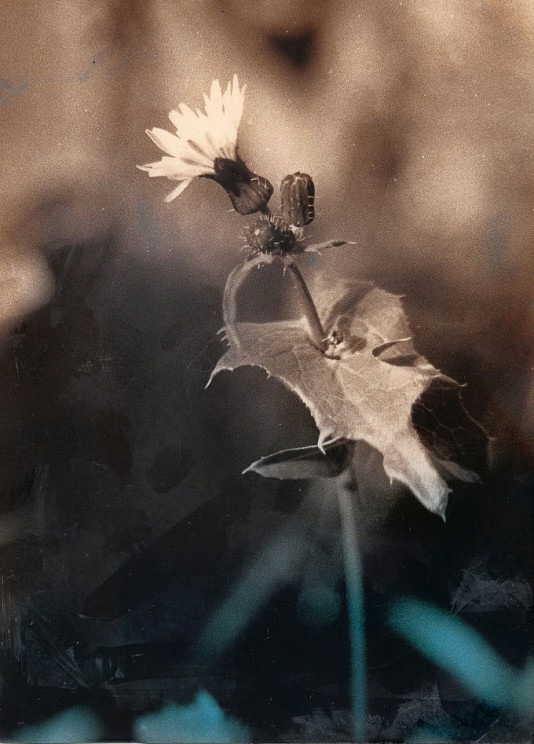 A busy newsletter this week.
---
Image credit: Thistle reinterpreted (Split tone and selective redevelopment – APG Toning Workshop)
Volunteer Opportunity: Archives Committee
The Board would like to thank outgoing Archives Committee Chair Ken Bretherton for his contribution to reorganise and catalogue the MCC collection of prints over the last few years.
We are seeking volunteers from the membership to form an Archive Committee. Volunteering gives members an opportunity to network with others and is a fantastic way to contribute to the success of the Club.
Expressions of interest or nominations/suggestions, please email Sally Paterson, Secretary secretary@melbournecameraclub.org.au
Stairwell Exhibition Coordinator
The Competition Committee is looking for someone to volunteer to be the Stairwell Exhibition Coordinator. This person is responsible for organising the awarded prints from each print competition night to be put into frames and hung in the stairwell. Typically, there will be a few people at the end of the evening that will be willing to assist. To express interest, or to ask for further information, please contact the Competition Committee Chair, Ruth Woodrow – ruth@angrybluecat.com
PDI Image Sizes
For those people that shoot in portrait orientation, a setting in the Club's competition upload system has been changed to allow portrait images to be uploaded with the same resolution as landscape images – ie. 1920×1200 (landscape) and 1200×1920 (portrait). This means that portrait images will be judged at the same resolution as landscape images. This setting was previously used, but had been reset inadvertently during a system update.
Emerald Hill Reimagined – Then and Now Exhibition
After being shut down twice last year due to COVID lockdowns, we have decided to mount this exhibition from Thursday 31 March and the following two weekends, 2-3 April and 9-10 April. More details on the website at: https://melbournecameraclub.org.au/emeraldhill2021/
VAPS Interclub Competition 2022
Every year the Melbourne Camera Club organises a club entry into the VAPS Interclub Competition and the Club has been very successful over the years.
Entries include both prints and PDIs – see the website for further details:
https://www.vaps.org.au/competitions/vaps-interclub-competitions.html
The closing date for entries is this week – Tuesday 15 March 2022, so please get your entries to Jim O'Donnell, External Competition Coordinator, at itsme21try@gmail.com as soon as possible.
Wednesday March 16 7:30pm
Our guest speaker for the evening is Sharon McClure who will discuss and present her body of work.
Please note that this will NOT be a hybrid meeting.
We all are looking forward to coming together in person and hope you can join us
Sue, Gaye, Bob and Renée
Workshop – Sunday March 20 11.00am
Toning photographic prints – from Sepia to creating multi-colour and split toning.
Cost is $10 for members to cover materials. $30 for non members.
Registration is required. Contact Selby Markham with any queries and to register
Mat Boards For Sale
MCC has received a donation of some pre-cut mat boards that we are offering for sale to Members.
The mat boards are assembled with backing board and have pre-cut windows in 3 different sizes.
Colour: White
Outside dimensions: 16 x 20 inch
Internal cut outs: (1) 11×14" (2) 12×16" or (3) A3 size
Note that the cut outs are a few millimetres less than the above sizes, which allow the printed image to overlap slightly
Price: $10 each, payment cash or via internet banking to MCC bank account
Further details in the Members section on the website: https://melbournecameraclub.org.au/members-only-matboards/
Members who would like to purchase please email the Secretary to arrange, with pickup ideally on Thursdays at 7.45pm from the Clubrooms.
There will be a sample to view in the Gallery at Thursday club night events.
Email: secretary@melbournecameraclub.org.au
Camera Clinic Closing Down
Camera Clinic has advised that it will close as of April 1st. Full information is available on their website:
https://camera-clinic.com/index.php/en/
Thanks to David Gilliver for notifying us of this.
What's On Outside the MCC
Exhibitions and Competitions
"A Photographic Retrospective by Neil Roberts"
An exhibition of the non-contemporary photography works of Neil Roberts, a local amateur photographer and member of the Maroondah Photographic Society. Ray Oliver Gallery, Mont de Lancey Historic Homestead, 71 Wellington Road, Wandin North. Dates: Wed 9 March – Sun 20 March, 2022 (closed Mon 14 March and Tue 15 March). Opening times: 10am – 4:30pm.
More information
VAPS Newsbrief
The February 2022 issue of VAPS Newsbrief is now available online.
Virtual Meetings – Video Library

Video replays of most of last year's Thursday night Guest Speaker's presentations and PDI Competitions are available on the Members / Video Library page on the website.
To access the Members section you will need to login first. Any issues with your login please contact us: webcontent@melbournecameraclub.org.au