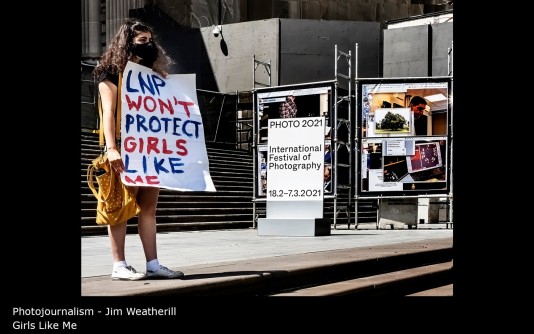 The newsletter will now be advertising exhibitions and competitions outside the club. If you have such an event you think might be appropriate please send it in. The description should be short and include a URL for basic access to the event.
---
Image credit: Jim Weatherill – Girls Like Me (2021 EOY Photojournalism)
Stairwell Exhibition Coordinator
The Competition Committee is looking for someone to volunteer to be the Stairwell Exhibition Coordinator. This person is responsible for organising the awarded prints from each print competition night to be put into frames and hung in the stairwell. Typically, there will be a few people at the end of the evening that will be willing to assist. To express interest, or to ask for further information, please contact the Competition Committee Chair, Ruth Woodrow – ruth@angrybluecat.com
VAPS Interclub Competition 2022
Every year the Melbourne Camera Club organises a club entry into the VAPS Interclub Competition and the Club has been very successful over the years.
Entries include both prints and PDIs – see the website for further details:
https://www.vaps.org.au/competitions/vaps-interclub-competitions.html
The closing date for entries is very soon – Tuesday 15 March 2022, so please get your entries to Jim O'Donnell, External Competition Coordinator, at itsme21try@gmail.com as soon as possible.
Trierenberg Super Circuit 2022
Every year, Melbourne Camera Club organises a club entry into the Trierenberg Super Circuit. Over the years, many members have been awarded and the club has been remarkably successful in this competition.
2022 marks the final year of the Trierenberg Super Circuit.
Please provide Jim with your entries on either a memory stick or DVD along with completed paper entry forms.
Contact Jim O'Donnell, External Competition Coordinator, email: itsme21try@gmail.com
Website: https://www.supercircuit.at/Home
Entry Form: https://www.supercircuit.at/Entry-Form
The closing date for entries is very soon but has been extended to Thursday 3rd March 2022, so please get your entries to Jim as soon as possible and let's go out with our best year ever!
Jim will be in the clubrooms on Thursday to collect entries but please note, he is unable to accept submissions by email.
The cost of entry is $63 for 1 section plus $7 for each additional section.
Emerald Hill Reimagined – Then and Now Exhibition
After being shut down twice last year due to COVID lockdowns, we have decided to mount this exhibition from Thursday 31 March and the following two weekends, 2-3 April and 9-10 April. More details on the website at: https://melbournecameraclub.org.au/emeraldhill2021/
What's On Outside the MCC
Exhibitions and Competitions
"A Photographic Retrospective by Neil Roberts"
An exhibition of the non-contemporary photography works of Neil Roberts, a local amateur photographer and member of the Maroondah Photographic Society. Ray Oliver Gallery, Mont de Lancey Historic Homestead, 71 Wellington Road, Wandin North. Dates: Wed 9 March – Sun 20 March, 2022 (closed Mon 14 March and Tue 15 March). Opening times: 10am – 4:30pm.
More information
"Picture This: Nature Through a Gardener's Lens"
This exhibition features Waverley Garden Club members' framed photographs of plants and gardens and promises to be stunning. Some of the framed and unframed photos will be available for sale. It opens on 2nd March 2022 and finishes Sunday 13 March 2022. Exhibition opening hours are Mon-Fri 11am-3pm, Sat-Sun 10am-4pm. More information:
VAPS Newsbrief
The February 2022 issue of VAPS Newsbrief is now available online.
Virtual Meetings – Video Library

Video replays of most of last year's Thursday night Guest Speaker's presentations and PDI Competitions are available on the Members / Video Library page on the website.
To access the Members section you will need to login first. Any issues with your login please contact us: webcontent@melbournecameraclub.org.au