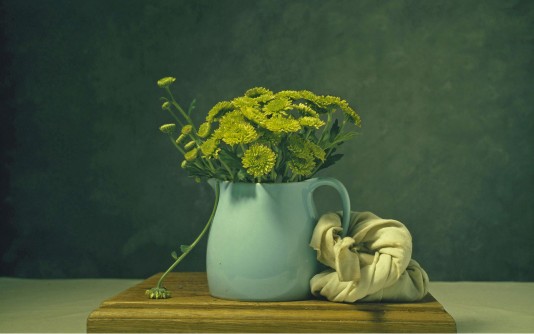 Things are coming back to normal. The schedule as live events is filling up.
It is a bit disappointing that club members still seem to be uninterested in sharing their new ideas and the their developmental activities.
---
Image credit:Colin Davey – Yellow Chrysanthemums and Blue Milk Jug (EoY 2021 Analogue Best)_.
Stairwell Exhibition Coordinator
The Competition Committee is looking for someone to volunteer to be the Stairwell Exhibition Coordinator. This person is responsible for organising the awarded prints from each print competition night to be put into frames and hung in the stairwell. Typically, there will be a few people at the end of the evening that will be willing to assist. To express interest, or to ask for further information, please contact the Competition Committee Chair, Ruth Woodrow – ruth@angrybluecat.com
Trierenberg Super Circuit 2022
Every year, Melbourne Camera Club organises a club entry into the Trierenberg Super Circuit.
Over the years, many members have been awarded and the club has been remarkably successful in this competition.
2022 marks the final year of the Trierenberg Super Circuit.
Please provide Jim with your entries on either a memory stick or DVD along with completed paper entry forms.
Contact Jim O'Donnell, External Competition Coordinator, email: itsme21try@gmail.com
Website: https://www.supercircuit.at/Home
Entry Form: https://www.supercircuit.at/Entry-Form
The closing date for entries is very soon – Tuesday 1 March 2022, so please get your entries to Jim as soon as possible and let's go out with our best year ever!
VAPS Interclub Competition 2022
Every year the Melbourne Camera Club organises a club entry into the VAPS Interclub Competition and the Club has been very successful over the years.
Entries include both prints and PDIs – see the website for further details:
https://www.vaps.org.au/competitions/vaps-interclub-competitions.html
The closing date for entries is very soon – Tuesday 15 March 2022, so please get your entries to Jim O'Donnell, External Competition Coordinator, at itsme21try@gmail.com as soon as possible.
Thank you to the members who have assisted with the course to date.
We still have two more workshops of Sunday 27 February and Sunday 6 March running from 9.30am to midday. If you are able to assist on any or all dates, please shoot me an email at intro.course@melbournecameraclub.org.au so that I can confirm the location with you.
Gary Richardson
Emerald Hill Reimagined – Then and Now Exhibition
After being shut down twice last year due to COVID lockdowns, we have decided to mount this exhibition from Thursday 31 March and the following two weekends, 2-3 April and 9-10 April. More details on the website at: https://melbournecameraclub.org.au/emeraldhill2021/
Monday 21 February at 8pm
Digital Editing Group returns to clubroom presentations and discussions. This month we will have a look at the major updates to Lightroom and Photoshop. Do you selectively adjust your images? If not why not? Selective adjustments are the key to creating drama in your images so we will look at how that can be done.
Wednesday 23 February at 7:30pm
The new lighting group will hold its first meeting on Wednesday 23 February at 7.30pm at MCC clubrooms. Over the course of this year, together, we will explore technical skills around lighting, using small, medium, large light sources, along with direct and diffused light. We'll predominantly work in the studio, teaching how to use our club's equipment and what results different tools produce.
We'll look into portrait light, product light and many more topics. Come join us, it will be a great learning opportunity.
Erik Sawaya, Coordinator
Photographic Lighting Group
Photowalk Community – Sunday 27 February
We welcome MCC members back for our first Photowalk for 2022.
This month's photowalk we will be photographing street art in around the streets of Fitzroy ending up at the Hispanic Latin American Festival in Johnston St, Fitzroy.
Meeting Time: 2.00pm, Sunday 27 February
Meeting Location: At the fountains on the Nicholson St side of Royal Exhibition Building, 9 Nicholson St, Carlton
There will be no organised dinner as street food is available at the festival.
All MCC events require all attendees to check in using MCC QR code and show evidence of double vaccination, electronically or on paper.
Any queries, please contact the Coordinators: photowalks@melbournecameraclub.org.au
What's On Outside the MCC
VAPS Newsbrief
The February 2022 issue of VAPS Newsbrief is now available online.
Virtual Meetings – Video Library

Video replays of most of last year's Thursday night Guest Speaker's presentations and PDI Competitions are available on the Members / Video Library page on the website.
To access the Members section you will need to login first. Any issues with your login please contact us: webcontent@melbournecameraclub.org.au