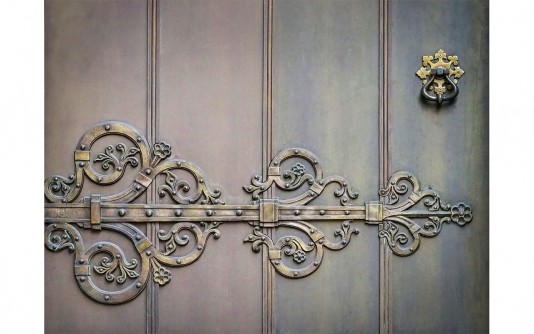 This is Independence Day in the USA – aka The Fourth of July. Best wishes to our US members.
There is a range of things to note this week including some external activities.
---
Image credit: Door to Salvation – Marg Huxtable (Highly Commended Set Subj A Grade 08-Apr-2021)
From the Competition Committee
The print competition will be taking place as a hybrid meeting (it will be zoomed) on Thursday 8 July under COVID-19 restrictions which limit capacity of the gallery to 32. We would like to see as many entries as possible but understand that many members intent on entering the competition may be reluctant to attend the club meeting. Please consider passing your images to another member who is attending to have your images judged, or contact Gary Richardson (mcc-print-comp@melbournecameraclub.org.au) to make alternative arrangements for delivery of your images to the clubrooms. Please remember to upload copies of your prints to the competition portal.
New MCC Policy
The Board has approved a new Gender Equality Policy which will be available on the website soon.
Please familiarise yourself with all MCC policies, this is a condition of membership and they are available on the website
Exposure Autumn 2021 now released.
Read profiles of your fellow club members, see what happened on the club walks at Lerderderg Gorge, Braeside and Williamstown. Learn how to build a star tracker device!
See it all here
Clubroom Access – Update
Access to the clubrooms and its facilities have not changed as the government has not modified the regulations.
10 Club Portrait Competition – 2021 – OPEN FOR ENTRIES
Key dates:
1. Monday 12 July Midnight: Due date for member submissions to club
2. Tuesday 24 August 7.30pm: Presentation/judging night via Zoom
Rules & Information: 10 Clubs Portrait Competition Rules 2021
Review – Guest Speaker Glynn Lavender
Glynn Lavender is an award winning photographer of people and a master of using light to achieve captivating portraits. He presented his recent travel portraits from India on Thursday 17 June to members of the Melbourne Camera Club.
Review – Guest Speaker Mario Mirable
Mario is photographer with a passion for capturing urban landscapes and unique streets – particularly in the city of Melbourne.
Tuesday 6th July
CANCELLED – Mid-week outing has been cancelled
Mosman Photography Club Competition
The Mosman Photography Club is holding their photography awards competition again this year. Analogue workers are particularly encouraged to enter. Entries close on the 1st August 2021. Details can be found here.
Albert Park College Art Show – invitation for entries

The organisers of the 11th annual Albert Park College Art Show have invited MCC members to submit entries for this year's event.
Entries open 12 July. Exhibition 10-12 September
Further details
What's On Outside the MCC
VAPS Newsbrief
The April 2021 issue of VAPS Newsbrief is now available online.
Virtual Meetings – Video Library

Video replays of most of last year's Thursday night Guest Speaker's presentations and PDI Competitions are available on the Members / Video Library page on the website.
To access the Members section you will need to login first. Any issues with your login please contact us: webcontent@melbournecameraclub.org.au