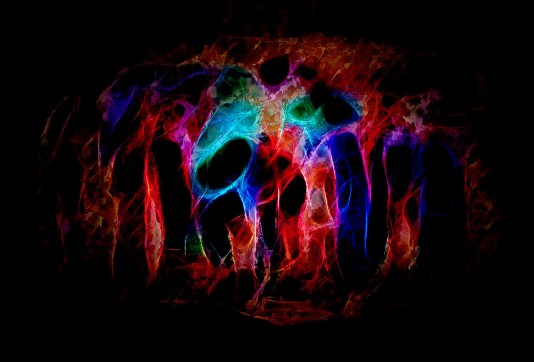 We have our first contribution illustrating the use of experimental processes. Thanks to Ken Roberts for giving us access to his thinking.
A final reminder that the World Pinhole Photography Day workshop is on on next Sunday. This is a community event for young and old.
---
Image credit: Summer Meeting B – Ken Roberts
PORTRAITURE EXPERT PRESENTATION – 7.30pm Tuesday 27 April Zoom
As part of the preparation for this year's 10 Club Portrait Competition that we participate in, Alan Moyle, one of the expert judges, has very kindly agreed to present to all the participating clubs on the Art and Skills of Portraiture. This session arranged and hosted by the Camberwell Camera Club be an extremely useful, particularly as we all start to think about which of our own portrait images we will be submitting for consideration for inclusion in our club's entry into this major competition.
Use this Zoom link for 7.30pm Tuesday 27 April
OUT AND ABOUT
is becoming a big section of our magazine.
This is because our three major outings are very popular and well attended:
NATURE WALK, COMMUNITY WALKS AND MID-WEEK OUTINGS
We need images from you if this section is to develop so, if you have images you would like to see here, let us have one or two and a few words about your experience to go with them.
exposure@melbournecameraclub.org.au
Monday 19th April 8:00
Topics to be covered are:
For those new to digital editing – resizing images for upload to MCC competitions, and how to enter the competitions for points or critiques. We will also have a look at how large a file is needed to make a competition print.
For those with some skills – creating dramatic black and white images in Lightroom.
For more advanced users of Photoshop – making difficult selections using alpha channels.
Looking forward to seeing you on Monday night.
International Women's Day Exhibition – People's Choice Winners
Thank you to all the visitors who joined us at the 2021 MCC International Women's Day exhibition. And thank you to everyone who voted in the People's Choice Award… the image with the most votes was 'Nomad girl, Sahara Desert, Republic of Chad, 2017' by Mayya Simonova, and the lucky voter was: Yanna Deng. Congratulations!!
https://melbournecameraclub.org.au/2021/04/16/peoples-choice-winner-mcc-international-womens-day-exhibition/
DatacomIT have approached MCC to assist in disseminating employment opportunities for people with digital photography experience.
Disclaimer: The Melbourne Camera Club has no formal relationship with DatacomIT. Neither does it have any involvement with DatacomIT's hiring or employment practices.
Friends of MGA Supper Talk

The Friends of MGA invite MCC Members and friends to their upcoming event: Hidden Melbourne: A photographic story of Melbourne through the ages with Barney Meyer.
Wednesday 21 April 7pm, Bookings essential.
Further details: https://www.mga.org.au/event/index/view/event/749
M-Squared Collaboration
'M Squared' is the first collaboration between Malahide Camera Club (Ireland) and Melbourne Camera Club. MCC members are invited to submit images to illustrate our respective city's uniqueness, eg there are no skyscrapers in Dublin and they are plentiful in Melbourne. The Showcase Event will be held on Sunday 16 May 7pm Melbourne time, via Zoom.
Upload your images through the PDI competition system by 30 April. Further details here.
Nature Photography Exhibition
The Melbourne Camera Club is pleased to announce it will be holding its second nature photography exhibition in May this year. The exhibition will showcase the best of our members' nature work along with works from some special invited guests.
For more information on the exhibition and to register your interest, please refer to: https://melbournecameraclub.org.au/nature-2021-tc/
What's On Outside the MCC
VAPS Newsbrief
The April 2021 issue of VAPS Newsbrief is now available online.
Virtual Meetings – Video Library

Video replays of most of last year's Thursday night Guest Speaker's presentations and PDI Competitions are available on the Members / Video Library page on the website.
To access the Members section you will need to login first. Any issues with your login please contact us: webcontent@melbournecameraclub.org.au