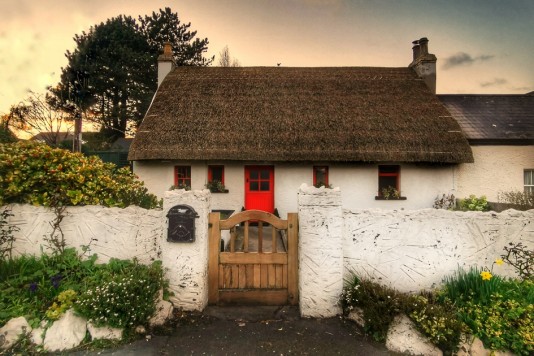 With the Easter weekend coming up, things are a little quiet this week.
A forward notice on a club + community event. The club will be running a World Pinhole Photography Day workshop on April 25th. This is open to members and non-members.
---
Image credit: Sharon Long, Malahide Camera Club – Thatched Cottage (M2 Collaboration 2021 – see item below)
The New Member Handbook
We are in the process of completing this initiative with portraits of club members.
We have The Board
We have the Special Interest coordinators.
NOW WE WANT YOU!
We would like to make them welcome.
If you would be happy to meet up with new, keen people, please send your portrait and a keyword for your photographic interests to – new.member@melbournecameraclub.org.au
Ruth Woodrow is happy to do portraits at club meetings.
This will help new members to recognise people with similar interests who are willing to share their knowledge, their information, and their friendship.
M-Squared Collaboration
'M Squared' is the first collaboration between Malahide Camera Club (Ireland) and Melbourne Camera Club. MCC members are invited to submit images to illustrate our respective city's uniqueness, eg there are no skyscrapers in Dublin and they are plentiful in Melbourne. The Showcase Event will be held on Sunday 16 May 7pm Melbourne time, via Zoom.
Upload your images through the PDI competition system by 30 April. Further details here: https://melbournecameraclub.org.au/m-squared-2021-collaboration/
Facilities User Registration
If anyone wishes to use the Studio or Darkroom, they have to become a registered facility user. There seems to be some confusion about what how this happens.
Please read the information on the process. Should someone wish to become a user, it is best to refer them to the appropriate Facility Manager – Darkroom or Studio.
Introduction to Photography – Final Session
The final evening of the Introduction to Photography course will be Tuesday 30 March. During this session Introduction Course participants will be showing some of their images. This is a great opportunity for current members to meet with the new members and see the sort of work they are doing.
Nature Photography Exhibition
The Melbourne Camera Club is pleased to announce it will be holding its second nature photography exhibition in May this year. The exhibition will showcase the best of our members' nature work along with works from some special invited guests.
For more information on the exhibition and to register your interest, please refer to: https://melbournecameraclub.org.au/nature-2021-tc/
Videographer Volunteer Opportunity
Theatrical Inc is a Melbourne based not for profit group, promoting performing arts. They have a YouTube channel to promote volunteering and community arts organisations as a means to combat social isolation, share skills, support creative expression and encourage positive physical and mental health.
If you have an interest in videography and you are prepared to volunteer some time to help create videos to promote community arts in Melbourne please contact former MCC president Andrew Gyopar on 0468 993 903 or andrew@theatrical.com.au.
What's On Outside the MCC
VAPS Newsbrief
The March 2021 issue of VAPS Newsbrief is now available online.
Virtual Meetings – Video Library

Video replays of most of last year's Thursday night Guest Speaker's presentations and PDI Competitions are available on the Members / Video Library page on the website.
To access the Members section you will need to login first. Any issues with your login please contact us: webcontent@melbournecameraclub.org.au
Melbourne Camera Club © 2021
Club Location: 254-256 Ferrars Street, South Melbourne, VIC 3205
Postal Address: PO Box 1180, South Melbourne VIC 3205, Australia