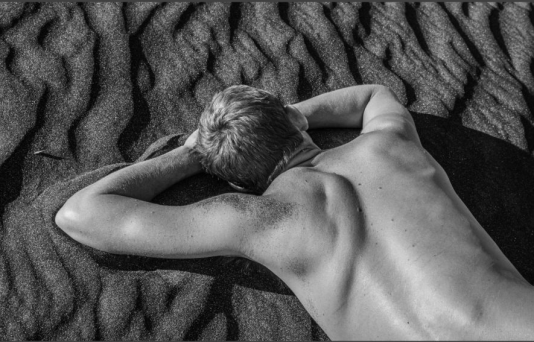 The lockdown is over and things can return to the so-called new normal. That includes the ability to book the darkroom and studio.
Make sure you check the Website to get up-to-date information on what is happening.
---
Image credit: Ripples – Kadri Elcoat (EOY People Highly Recommended)
Clubroom access – mask wearing
A reminder to all members and visitors that you need to comply with the MCC Covid-19 Safety Guidelines when visiting the Clubrooms. The MCC policy follows government guidelines regarding mask wearing – face masks continue to be mandatory indoors (other than residential homes) – so everyone must wear a face mask inside the MCC building. The MCC policy is available at the main door to the Clubrooms and on the website
MCC Constitution update
All financial members of MCC should have received an information package on the updating of the MCC Constitution (if you haven't received it please contact mcc-secretary@melbournecameraclub.org.au }. We would like your comments on the proposed constitution by Monday 15th March 2021 so that we can proceed to the next step which will be a meeting to discuss your feedback.
Please have your say and return the comments form to
mcc-secretary@melbournecameraclub.org.au or Lesley.bretherton@melbournecameraclub.org.au by Monday 15th March.
International Women's Day Exhibition Reminder.
A reminder to all IWD exhibitors that prints should be delivered to the MCC rooms on or before Thursday 25 February 2021 between 6pm—8pm (or by prior arrangement with the Exhibition Coordinators) Artwork is to be delivered, printed, mounted and ready to install to Melbourne Camera Club, corner Ferrars St and Dorcas St, South Melbourne
If you have any questions, please email exhibitions@melbournecameraclub.org.au or Lesley.bretherton@melbournecameraclub.org.au
Tuesday 23rd February 10.30
Mid-Month Excursion
Despite the recent lockdowns and such, just a reminder that we will hold the excursion as previously advertised. I checked the galleries where the photographic exhibitions are held. They all said that everything is as previously planned.
We meet in the atrium of Collins Place on Collins Street at 10.30am for coffee. Don't forget your mask.
Production Team wanted
MCC is seeking a small but enthusiastic team to help with production at meetings and events. Team members will be responsible for working with the computer, projector, audio and video mixers and cameras to create online and hybrid activities. Please contact secretary@melbournecameraclub.org.au to express interest.
Trierenberg Super Circuit
After a year's break due to the global pandemic, the Trierenberg Super Circuit – the world's largest photography competition – is back for 2021. MCC is organising a club entry to this competition as we have done for many years. Please click here for more information and for details on how to be a part of this exciting event.
What's On Outside the MCC
VAPS Newsbrief
The February 2021 issue of VAPS Newsbrief is now available online.
Virtual Meetings – Video Library

Video replays of most of last year's Thursday night Guest Speaker's presentations and PDI Competitions are available on the Members / Video Library page on the website.
To access the Members section you will need to login first. Any issues with your login please contact us: webcontent@melbournecameraclub.org.au
Melbourne Camera Club © 2021
Club Location: 254-256 Ferrars Street, South Melbourne, VIC 3205
Postal Address: PO Box 1180, South Melbourne VIC 3205, Australia