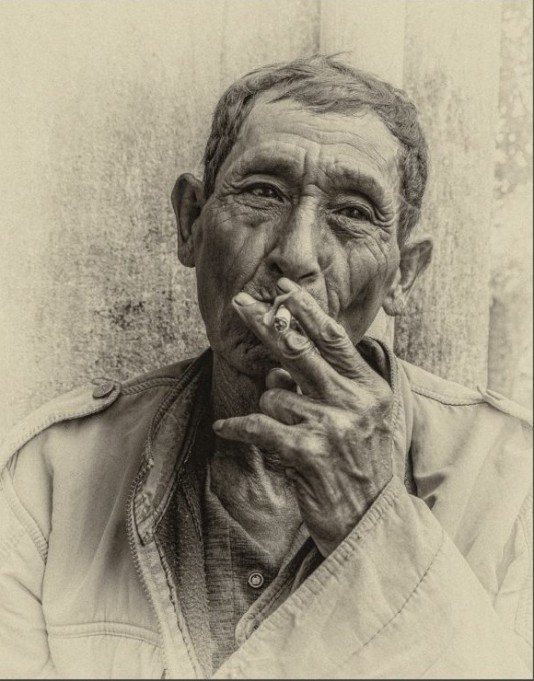 G'Day mcc

Let us look forward to a productive and creative new year in photography. In the new normality participation and cooperation will be the key to having a positive club community.
You will see that the newsletter has had a bit of a redesign. We have placed the Whats On links at the start and then the MCC news items followed by external items. Eventually, most major reporting will be on the Web page and the newsletter will link to the appropriate URL.
---
Image credit: Charles Wyatt – The Smoking Man (EOY Monochrome best)
Monday 25 January 2021
The Analogue Photography Group will have its first meeting of 2021. The agenda for the night can be found on the APG meeting page.
Thursday 28 January 6.30pm
Social BBQ & Promotions Presentations:
MCC Members are invited to join the Board for our annual BBQ on Thursday evening. Due to COVID restrictions, please BYO everything – food, drinks/glasses, plates & cutlery, and salads, meat for your BBQ (no shared food). Following the BBQ will be promotion presentations by Members who were promoted from B Grade to A Grade at the End of Year Awards – at 8pm in the Gallery.
Sunday 31 January 2021
Sunday 10am: Nature Group Outing
The Nature Group will visit Westgate Park, 4 Wharf Road, Port Melbourne for a meander around the park to look for birds, insects and interesting flora. Meeting point is Pink Lake Car Park. BYO hat, sunscreen, insect repellent and chair and lunch if planning to stay on.
Monday 1 February 2021
The first shoot for the year…..
MCC International Women's Day Photography Exhibition 2021
Calling all Women Photographers!
The Grace Lock discussion group are organising the Melbourne Camera Club's International Women's day exhibition celebrating women in photography. All women members and female partners of members are invited to submit and exhibit in MCC's fourth consecutive International Women's Day Exhibition of Photography.
Please register your interest here before Friday 5 February 2021, 11.59pm
Click Here for more information and Terms & Conditions
If you have any questions, please email exhibitions@melbournecameraclub.org.au or Lesley.bretherton@melbournecameraclub.org.au
What's On Outside the MCC
VAPS Newsbrief
The December 2020 issue of VAPS Newsbrief is now available online.
Virtual Meetings – Video Library

Video replays of most of last year's Thursday night Guest Speaker's presentations and PDI Competitions are available on the Members / Video Library page on the website.
To access the Members section you will need to login first. Any issues with your login please contact us: webcontent@melbournecameraclub.org.au 
Selby Markham Content Editor
Greg Branson Technical Editor
Board rep. Paul Dodd
Email articles and news items for Weekly News to: newsletter@melbournecameraclub.org.au. 
Submission cut off of 9pm Friday. Material may be subject to editing for content and length. We will acknowledge all requests by email, so if you haven't received a reply within a day, please contact the editorial group.
Melbourne Camera Club © 2020
Club Location: 254-256 Ferrars Street, South Melbourne, VIC 3205
Postal Address: PO Box 1180, South Melbourne VIC 3205, Australia