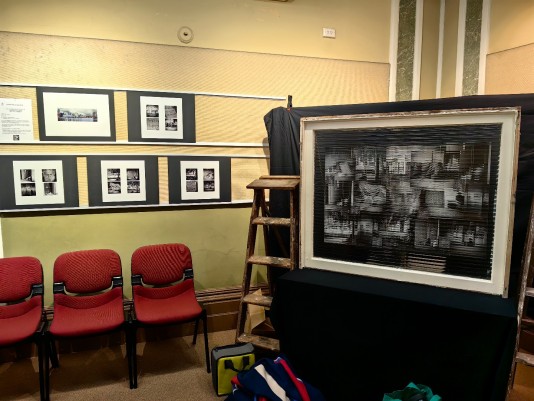 The Opening Event for MCC's Conceptual Group's second annual exhibition "Alternative Intelligence" – Is it natural? Is it artificial?" was held last Thursday evening and was well attended by MCC members and visitors. A number of the exhibitors spoke to their artist statements and their exhibits.
Many thanks to the exhibitors for putting together a fabulous and interesting exhibition.
The Exhibition will be open next weekend 28-29 October, so head down to check out the works and to learn more about this topic and this special interest group.
Image: Des Crossley, Conceptual Group Exhibition, October 2023
End of Year 2023 Competition
Entries are now open for the Club's annual End of Year Competition. This is a great opportunity to showcase your best Prints and PDIs in various themed sections. You can enter new images or images entered this year in the monthly competitions whether awarded or not.
Entries close midnight Wednesday 1 November. All entries are to be uploaded to the Competition Portal and Prints are to be delivered to the MCC Clubrooms on Thursday 2 November between 7-8pm, or prior to this date by arrangement with the Competition Committee.
There will be a Gallery Exhibition on 2 and 3 December of the EOY Prints, with opening night on Thursday 30 November.
If you are available to man the exhibition over the weekend, please contact the Competition Committee Chair, Ruth Woodrow at ruth.woodrow@melbournecameraclub.org.au. Sessions are from 10am-1pm or 1pm-4pm.
The Awards night will be held on Thursday 7 December. Awards are made for the best work in every section and there are awards for the most successful monthly competition entrant, including Photographer of the Year for both A and B Grade. Following the formal award presentations there will be a social event and time to look at the EOY images in the gallery, all members and family are welcome.
Details and entry forms are available on the Club Competition Page through the link below.
Set Subjects for 2024 Competitions
The following are the Set Subjects for the 2024 Competitions:
February: Landscape (Landscape, Seascape, Urbanscape)
March: Nature
April: Photojournalism
May: People Portrait
June: Architecture
July: Still Life
August: Abstract
September: Minimalism
October: Dominant Single Colour
Supplier Discounts for MCC Members
Spicers are offering MCC members a discount on selected paper products: 30% on their range of Hahnemuhle sheet paper and a 45% discount on their 17" rolls of paper.
Photography Studies College (PSC) are offering MCC members 20% discount on for all Fine Art Papers – Ilford, Canson, and Hahnemuhle papers.
Photobooks: Momento Pro offer for Club members: once registration is setup, you will have access to Momento Pro services (only open to professional photographers or camera club members), 30% discount on your first order and 10% on all future orders.
Full details of these special offers are on the Resources and Links page in the Members area of the website.

Analogue Photography Group
Monday 23 October, 7:30pm
Show and Tell, feedback on printmaking, Passion Projects, Work In Progress, sharing of interesting cameras.
Guest speaker: Lee Lira talking about DIY silver gelatin orthochromatic glass dry plate emulsions and 'cooking up' emulsions in his garage.

Board Meeting
Tuesday 24 October, 10.30am
The MCC Board meets on the fourth Tuesday of the month.
Any items for the Board should be provided on the standard proposal template (link here) and emailed to secretary@melbournecameraclub.org.au

*Zoom only* PDI Competition
Thursday 26 October, 8:00pm
Set Subject: Light Painting
Judge: Michelle Grace Hunder
Competition Entry Date: now expired
Note that this is a Zoom Only event, with no attendees at the Clubrooms.
Link – See weekly newsletter

Second Annual Conceptual Photography Exhibition
Saturday 28 & Sunday 29 October, 11am – 3pm
The Conceptual Group of the Melbourne Camera Club continues its second annual exhibition, "Alternative Intelligence" – Is it natural? Is it artificial? Come along and explore to find out.
The exhibition will be open for one final weekend:
11:00am to 3:00pm
Saturday 28 and Sunday 29 October
Hope to see you there!

Nature Outing – Ocean Grove
Sunday 29 October, 10:30am – 5pm
For this month's outing, the Nature Group will venture to the Bellarine Peninsula.
We will meet at 10.30 am at the Ocean Grove Nature Reserve. The entrance to the Reserve is off Grubb Road, Wallington, turning right onto Grubb Road from the Bellarine Highway.
After exploring and photographing the reserve, we will have lunch there (BYO water, lunch snacks) before moving on to the Lake Lorne Reserve and Wetlands in the afternoon.
Please rsvp by 26 October to mcc-nature@melbournecamberaclub.org.au if you are planning to attend.
See more details in the Nature group mailout.

Guest Speaker – Zo Damage
Thursday 2 November, 8:00pm
Melbourne photographer Zo Damage will be discussing her alternative analogue photographic practice, outlining her processes in creating various works of art that question the tropes and conventions of what defines a photograph.
Members can attend the presentation at the clubrooms or via Zoom.
Zoom link details will be advised in next week's MCC Weekly News.
Wolfhound Gallery Exhibition Opening: Friday 27 October, all welcome!
MCC member Adélaïde Barnard, together with a group of photographers will be exhibiting their work at Wolfhound Gallery, 386-388 Brunswick St, Fitzroy.
All MCC members are warmly invited to the Opening Event on Friday 27 October at 6pm.
MAPh | LOOK! MAPh Members' Photography Prize and Exhibition 2023
LOOK! is an exclusive annual photographic award and exhibition that celebrates work produced by MAPh Members. The exhibition is currently on display in the Atrium Gallery at MAPh.
Congratulations to MCC Members on their successes at the LOOK! Photography Prize:
Lesley Bretherton: winner of the Portraiture Category with her image of Michael Meszaros Sculptor.
Ken Gosbell: winner of the Nature Category with his image 'Leaf Beetle'
Harry Clarke and Sally Paterson also have their finalist entries on display at the exhibition
LOOK! MAPh Members' photography prize
EXHIBITION – ATRIUM GALLERY
Dates: 30 August – 27 November 2023
Opening Hours: Tue–Fri 10–5, Sat–Sun 10–4
Museum of Australian Photography
860 Ferntree Gully Road
Wheelers Hill
VAPS Newsbrief
Latest Issue
Monthly issues of VAPS Newsbrief are available online, published at the start of each month.
Celebrating MCC Members' Photography Success
If you have any recent results you would like to share to inspire other members in their photography journey, please email the Newsletter team so the website page can be updated and shared in the Weekly News.
MCC does not endorse any competitions/exhibitions that are listed, the content is for informational purposes.
Editorial Committee: Sally Paterson / Mark Devaraj / Paul Dodd / Vitas Anderson
Email articles and news items for Weekly News to: newsletter.group@melbournecameraclub.org.au
Submission cut off: 12pm Saturdays
Material may be subject to editing for content and length
Include an image where possible
Melbourne Camera Club © 2023

254-256 Ferrars St




South Melbourne

,

VIC

3205




Australia