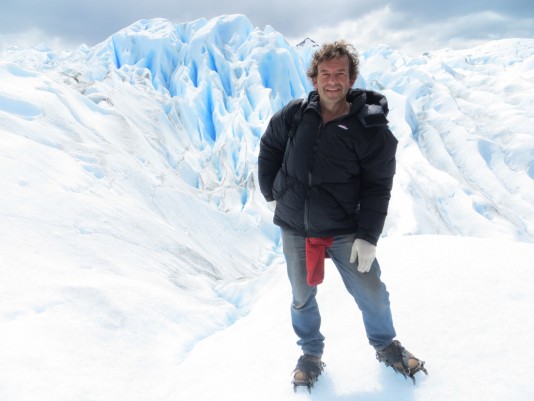 As announced during the AGM on Thursday night – in October 2022 the Club was advised of the passing of long time member Alec Mallett, aged 55 years.
Alec was born in 1967 and attended Hartwell Primary, Swinburne Junior Community School, Camberwell High and Box Hill High. Upon completing his Bachelor of Commerce degree at Deakin University he travelled to London working as an accountant, returning home a few years later.
He had the travel bug and travelled extensively. He loved taking photos of his travels.
In one of his resumes, he described himself as being a globe-trotting cyclist. He combined his lifelong passions of cycling, photography and travel to perfection.
Throughout his life he suffered ill health and sadly died suddenly at home in September 2022, succumbing to his heart condition.
Click through the link to read in full, information kindly provided by the Executor to Estate of Alec Mallett, September 2023.
---
Alec remembered the Club is his Will and once probate was granted earlier this year the Club received, in July, a major bequest from Alec's estate of $127,000 for the Club to apply as it sees fit.
The Board will be looking to work with members as to how best to apply these funds to the Club to provide a lasting legacy of Alec's generosity.
If you have any memories or photos of Alec during his time with the Club, the Board would like to hear from you. Please contact the Secretary to contribute to a Tribute page which will be setup on the website.
Image of Alec Mallett, dated approx 2014
Outcomes of the MCC AGM 2023
The 133rd Annual General Meeting of the members of the Melbourne Camera Club was held at the Clubrooms and on Zoom on Thursday 5 October 2023.
The new Board for 2023/2024 is:
President: Mark Devaraj
Hon Secretary: Sally Paterson
Hon Treasurer: David Sherwood
Elected Members: Ian Bock, Colin Booth, Kaye Linsdell, Megan Smith, Joanne Rinaldi, Desmond Crossley
Club Subscriptions
As recommended by the Board the Motion to keep current subscription rates unchanged for FY 2024 was unanimously passed.
AGM Documents
Members can read the AGM reports including the Coordinators reports on the website.
Mark Devaraj
President
Celebrating MCC Members
Congratulations to Paul Dodd who received a Bronze award in the Landscape Category of the Epson International Pano Awards for his image "Dry Lake Bed"
MCC Policy Update
Following the draft Code of Conduct and Ethical Principles policy shared with members for feedback in August, the Board has incorporated the suggested comments from members and the updated policy is uploaded to the Club Documents page on the website.
The new Code of Conduct and Ethical Principles policy reflects better language, structure and readability. A number of areas have been condensed and other areas expanded.
Thank you to the members who provided comments.
Please take a moment to read the updated policy. As a reminder of the conditions of membership that all members agree to be bound by the Constitution of the Melbourne Camera Club and all Club Policies, available on our website.
MCC Board
Supplier Discounts for MCC Members
Spicers are offering MCC members a discount on selected paper products: 30% on their range of Hahnemuhle sheet paper and a 45% discount on their 17" rolls of paper.
Photography Studies College (PSC) are offering MCC members 20% discount on for all Fine Art Papers – Ilford, Canson, and Hahnemuhle papers.
Photobooks: Momento Pro offer for Club members: once registration is setup, you will have access to Momento Pro services (only open to professional photographers or camera club members), 30% discount on your first order and 10% on all future orders.
Full details of these special offers are on the Resources and Links page in the Members area of the website.

Photo Discussion Group
Monday 9 October, 8pm
We explore how we might continue to develop our skills by considering issues such as:
what makes winning images in competitions
how judges evaluate our work
how we can improve our creative techniques (image capture, image processing and printing) to create images we love and that appeal to a wider audience; and
how we can push beyond current limitations and continue to develop our art

Print Competition (Clubrooms)
Thursday 12 October, 8pm
Set Subject: Light Painting
Judge: TBA
Competition Entry Date: Wednesday 11 October (midnight)

Lighting Group
Friday 13 October, 7pm
Join us on Friday night this week – we will be looking at using Constant Light (LED Lighting) in the Studio.
All are welcome.

Digital Editing Group
Monday 16 October, 8pm
As the level of understanding of digital editing techniques varies enormously among members, we will aim to provide information to members at basic, intermediate and advanced levels in each meeting.
Topics for the nights' discussions are to be confirmed.
Ballarat International Foto Biennale
Final 2 weeks!
Closes on Sunday 22 October
The Ballarat International Foto Biennale is well worth a visit to explore the huge number of exhibitions around the town of Ballarat, including some MCC members exhibitions, details below.
The BIFB was founded in 2005 and attracts significant International and Australian photographers as one of Australia's pre-eminent photographic festivals. Held every two years it showcases work from domestic and international artists that is new, previously unseen in Australia or contextualised afresh; the Open Program fosters the development of new artists.
MCC Members' exhibitions:
MAPh | LOOK! MAPh Members' Photography Prize and Exhibition 2023
LOOK! is an exclusive annual photographic award and exhibition that celebrates work produced by MAPh Members. The exhibition is currently on display in the Atrium Gallery at MAPh.
Congratulations to MCC Members on their successes at the LOOK! Photography Prize:
Lesley Bretherton: winner of the Portraiture Category with her image of Michael Meszaros Sculptor.
Ken Gosbell: winner of the Nature Category with his image 'Leaf Beetle'
Harry Clarke and Sally Paterson also have their finalist entries on display at the exhibition
LOOK! MAPh Members' photography prize
EXHIBITION – ATRIUM GALLERY
Dates: 30 August – 27 November 2023
Opening Hours: Tue–Fri 10–5, Sat–Sun 10–4
Museum of Australian Photography
860 Ferntree Gully Road
Wheelers Hill
VAPS Newsbrief
Latest Issue
Monthly issues of VAPS Newsbrief are available online, published at the start of each month.
Celebrating MCC Members' Photography Success
If you have any recent results you would like to share to inspire other members in their photography journey, please email the Newsletter team so the website page can be updated and shared in the Weekly News.
MCC does not endorse any competitions/exhibitions that are listed, the content is for informational purposes.
Editorial Committee: Sally Paterson / Mark Devaraj / Paul Dodd / Vitas Anderson
Email articles and news items for Weekly News to: newsletter.group@melbournecameraclub.org.au
Submission cut off: 12pm Saturdays
Material may be subject to editing for content and length
Include an image where possible