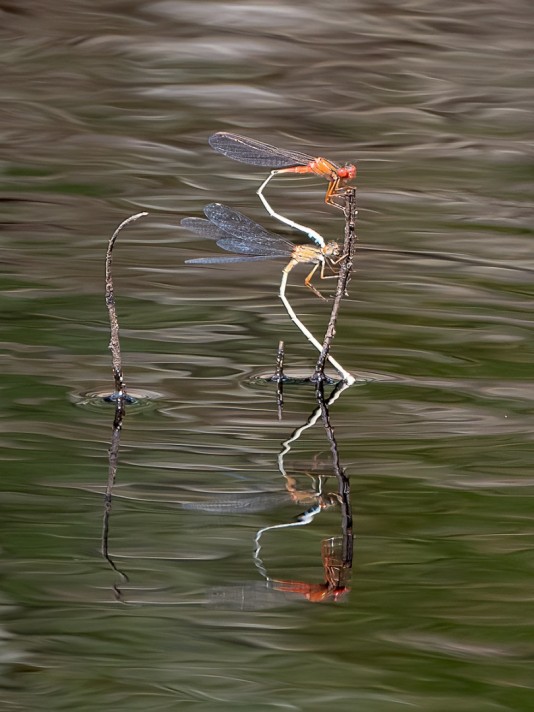 Thank you to all those who supported the recent Nature Exhibition through exhibiting, volunteering or simply visiting. We hope it has inspired those who didn't exhibit this year to join us next year.
And thanks to everyone who voted in the People's Choice Award… the image with the most votes was 'Connecting Dragonflies #2', by Marg Huxtable – congratulations Marg! The lucky voter was: Maria Mally. Congratulations!!
Many thanks to Tuck Leong who took some photos at the Opening Event on 26 May, you can view the gallery here.
Note that this week's Guest Speaker Sandra Dann – will be a ZOOM ONLY event this week, no attendance in the clubrooms. Further details and Zoom link below. We have invited other VAPS Clubs to join this session via YouTube.
Image: 'Connecting Dragonflies #2', by Marg Huxtable
MCC Life Member Ian Bock's Personal Exhibition: The Mind Bockles
Ian Bock is having a retrospective exhibition of his photography to mark his 90th birthday and 76 years of photography.
This is unlike other exhibitions. There will be photographs covering the whole period including one from Ian's first film from a box Brownie. There will be award winners and horrible examples.
There will be some darkroom equipment and old cameras on display.
All Members and friends of MCC are invited to attend the Exhibition Opening Event and talk by Ian – on Thursday 29 June at 8:00pm.
The exhibition continues on Saturday 1 July, and Sunday 2 July, 11am-4pm each day.
Ian has been a member of MCC for 57 years and is a Life Member, long-time Board Director and past President.
He has been awarded an OAM, SSAPS and SSVAPS for his work with camera clubs and other non-profit organisations.
Additionally, the Exhibition Committee are seeking volunteers to assist to welcome visitors during the weekend at Ian's Exhibition.
Please email us if you can help out:
Saturday 1 July or Sunday 2 July
Shifts 11am-1.30pm or 1.30pm-4pm
BLOCKIES A photographic exhibition
17-18 June 2023, 10am-4pm
MCC Member Greg Branson's upcoming personal exhibition
It is a little known fact that some of Australia's iconic farming districts share a link with the bloody battlefields of World War I.
Following the war, a soldier settlement scheme was introduced in each Australian state to help repatriate servicemen who had fought overseas.
The program saw the creation of around 23,000 farms nationwide across 9 million hectares.
Greg Branson pays tribute to these Blockies in his exhibition through B&W silver bromide images of abandoned homes and buildings.
Upcoming Conceptual Group Meeting
Wednesday 21 June, 7.30pm
The upcoming Conceptual Group will host an invited critic to discuss our Work in Progress. The critic is Mark Harper – a lecturer from PSC with twenty years of experience as a professional photographer.
Bring along, or upload some of your conceptual work for discussion, or just come along for discussion and inspiration. Refer recent email from Conceptual Group for upload link.
Australian Photographic Prize – All your questions answered!
This Friday, 16 June at 8pm, Robyn Campbell and members of the APP team will be presenting and answering all questions about the forthcoming Australian Photographic Prize by Zoom. The session is open to all clubs. This competition is open to all photographers and includes print and digital sections.
The event will be hosted at Photography Studies College in South Melbourne. There is the opportunity to attend live judging – always a huge amount of value as you can see and hear the judges critiquing each image. Additionally, there is a trade show and the inevitable after party and awards night!
The event runs from 21-23 July but entries are open right now, closing on 3 July! There are some amazing prizes too!
Link: Join Zoom Meeting
Meeting ID: 889 8120 6522
Passcode: 718514

Grace Lock Group
Wednesday 14 June, 7:30pm
Santina Velo has booked the downstairs studio and darkroom and will take us through her experimentation with alternative processes.
Her cyanotype and cyanolumens in the IWD exhibition were very beautiful and had us all intrigued. Santina will conduct a hands on workshop including her learnings and workflow. This is sure to get our creative juices going.

**ZOOM ONLY** Guest Speaker: Sandra Dunn
Thursday 15 June, 8pm
Sandra Dann is an award winning Creative Digital Artist, Educator and Photographer who has won many Gold, Silver and Bronze awards in Photographic Competitions.
Sandra's Compositing skills and artistic vision explore a world of imagination, colour and whimsy.
She will be presenting on the topic: Unleashing the Potential: Starting Your Composite Journey.
Link: See weekly news email.
New APS Approved Exhibition
Opening 15 June, Closing 30 July

The Graham Burstow Monochrome Prize was established in 2023 in honour of Graham Burstow OAM SAPS PSQA FFRPS FAPS EFIAP – who was one of the founding members of the Australian Photographic Society, and since that time he contributed enormously to the Society and it's members. He was involved in the establishment of the APS national and international exhibitions. Graham was the APS President from 1982 to 1984, and he was the Print Division Chairman for ten years.
Graham passed away at the age of 92 years in 2022. He was a legend in the photography world, having been recognised by an Order of Australia Medal in 2004 for his services to photography. The first Queenslander to do so, he achieved a Fellowship in each of the Australian, British, and American Photographic Societies.
Graham's stunning photographs are held in many institutions around Australia, including the National Library in Canberra, and HOTA on the Gold Coast. His images show his great passion for street photography, especially in Mono.
ONE SECTION – MONO STREET PHOTOGRAPHY: Acceptances gained in this exhibition may be used towards APS honours.
Wolfhound Gallery – Michael Coyne Solo Exhibition.

Open from 4 – 26 June
Limited selection from Coyne's work on the book titled "VILLAGE – Hearing the Grass Grow" together with a retrospective private collection.
Wolfhound Gallery
Level 1, 386 Brunswick Street, Fitzroy
See website for opening hours.
https://www.wolfhoundgallery.com.au
State Library exhibition – MIRROR: New views on photography.

19 May 2023- 28 January 2024
Great photography can hold up a mirror to the world and reflect our innermost thoughts and feelings.
MIRROR: New views on photography showcases over 140 photographs from the State Collection, alongside creative responses from emerging and established Victorian storytellers to tell fascinating tales of Victoria through a contemporary lens.
Displayed in stunning immersive detail, the photos of Rennie Ellis, Viva Gibb, Helmut Newton and more combine with the words, performance and sounds of Alice Skye, Christos Tsiolkas, Jason Tamiru, Walter Kadiki and other storytellers to produce new narratives of Victorian people and places.
Free, no bookings required.
VAPS Newsbrief
Latest Issue
Monthly issues of VAPS Newsbrief are available online, published at the start of each month.
Celebrating MCC Members' Photography Success
If you have any recent results you would like to share to inspire other members in their photography journey, please email the Newsletter team so the website page can be updated and shared in the Weekly News.
MCC does not endorse any competitions/exhibitions that are listed, the content is for informational purposes.
Editorial Committee: Sally Paterson / Mark Devaraj / Paul Dodd / Vitas Anderson / Helen Lang
Email articles and news items for Weekly News to: newsletter.group@melbournecameraclub.org.au
Submission cut off: 12pm Saturdays
Material may be subject to editing for content and length
Include an image where possible