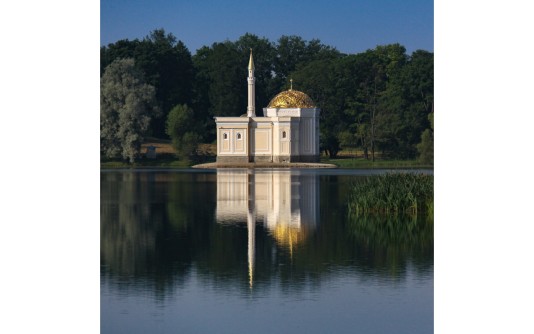 Jesse Marlow, Leica Ambassador was our guest speaker last Thursday evening and shared his experiences and journey in Street Photography. Jesse, a first-time speaker at the club shared many images and back stories from his personal projects, books and also his commissioned work. Members can view the replay, click here.
Image: Reflection at Katherine's Palace – Robyn White (Highly Commended – Set Subject B Grade PDI – Mar 2023)
International Women's Day Exhibition – People's Choice Winners
Thank you to all our exhibitors and visitors to this year's International Women's Day Exhibition which was held over two weekends in March.
And thanks to everyone who voted in the People's Choice Award… the image with the most votes was 'A Committed Member of the Sisterhood, by Jenny Sedgwick – congratulations Jenny!
The lucky voter was: Frances Egan.
Congratulations!!
Nature Exhibition: Invitation to Exhibit
The Melbourne Camera Club is pleased to be running its third nature exhibition featuring the works of club members and invited guests. The theme for this year's exhibition is 'Natural Connections'.
We are inviting all members to be a part of this year's Nature Photography Exhibition, which will be held 26 May – 4 June 2023.
For this exhibition we are looking for two or three of your images that work together. They may be themed by subject, colour, texture or any other connection.
Images for the purposes of this exhibition, will need to follow the nature definition as determined by Australian Photography Society (APS). Please refer to details on the Terms & Conditions website page. Entrants are encouraged to contact the Exhibition Committee if they need clarification of the nature definition.
*Image: Mantis by Frances Egan
Board Update
The MCC Board would like to welcome Megan Smith to the Board as an Alternate Director, appointed by the Board until the next AGM in early October, to fill the vacancy left following Colette Gaughran's resignation.

Portrait Group
Monday 3 April, come in at 7pm to help with setup, start shooting 8pm
Special thanks to Robert Vangeli who will be our guest lighting designer this month.
Portrait Group is suitable for photographers of all abilities and experience levels – you just need a modern digital camera that has a hot shoe on the top. The Portrait Group coordinators are willing to give you as much or as little help as you need, whether it be understanding studio flash lighting, how to best frame your shot or how to direct a model, as examples. Just ask.

Mid-Week Outing
Tuesday 4 April, 10.30am
Melbourne Zoo
Whether you have an interest in a specific animal, or just enjoy a walk through the beautifully landscaped area with friends while coming across the occasional giraffe, elephant, lion, tiger, seal, penguin, kangaroo etc etc; it will be a lovely day, with plenty of photo opportunities.
We will meet for coffee at 10.30 am at the Lakeside Café, which a bit in from both gates (north entrance or south entrance), but we can sit down at tables inside. Sushi Sushi is the main caterer, and they serve a good coffee.
Details sent via mailout on 27 March.

15 Minutes of Fame – Club Members Discuss Their Work

Thursday 6 April, 8pm
In this new addition to the program we are inviting three members of the club to present their work and answer questions on a regular Thursday evening club night. We are privileged to have the following members presenting their photography on 6th April: Wayne Harridge, Joanne Rinaldi and Santina Velo.
Please join us in person at the Clubrooms, or via Members Zoom link found in the weekly newsletter.

Grace Lock Group – Lesley Bretherton Florilegium presentation
Wednesday 12 April, 7.30pm
Join us for a presentation on how Lesley achieves her stunning floral compositions, tapping into the philosophy of wabi-sabi.
VAPS Convention 16-18 June
Registration Open
Plans are well underway for this year's major event on the VAPS calendar – the Annual Convention, which is being held in Colac this year. Members of all affiliated camera clubs are invited to attend.
All details including the Program and Registrations are available online, refer link.
VAPS Newsbrief
Latest Issue
Monthly issues of VAPS Newsbrief are available online, published at the start of each month.
Celebrating MCC Members' Photography Success

If you have any recent results you would like to share to inspire other members in their photography journey, please email the Newsletter team so the website page can be updated and shared in the Weekly News.
MCC does not endorse any competitions/exhibitions that are listed, the content is for informational purposes.
Editorial Committee: Sally Paterson / Mark Devaraj / Paul Dodd / Vitas Anderson
Email articles and news items for Weekly News to: newsletter.group@melbournecameraclub.org.au
Submission cut off: 12pm Saturdays
Material may be subject to editing for content and length
Include an image where possible
Melbourne Camera Club © 2023

254-256 Ferrars St




South Melbourne

,

VIC

3205




Australia