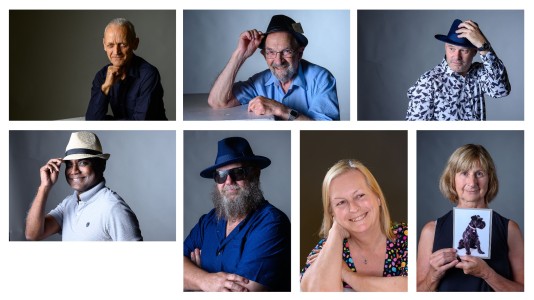 We had a great attendance at last Thursday's club night – Portrait Lighting Demo with Andrew Campbell – 43 people attended in person and Zoom.
Andrew spoke not only about the lighting setups but also covered topics around dealing with his subjects and different poses, props and tips during the live demonstration.
Members can view the recording from the session here.
Images: Andrew Campbell – Portrait Lighting Demo 16 Feb 2023
Analogue Photography Group

The next APG meeting will be held on Monday 27 February 7.30pm at the Clubrooms.
This month's meeting will begin with Show and Tell, feedback on printmaking, Passion Projects, Work In Progress, sharing of interesting cameras.
What makes a good print. Members to bring along prints for discussion. Talking points; composition, exposure, developer, development times, toning.
Activity: What makes a good print
Please bring along prints for discussion. Prints exhibited in the last exhibition would be good for discussion. Alt process prints are welcome. Talking points; composition, exposure, developer, development times, toning.
Followed by Discussion about a new workshop program 'Exploring the negative.' To be presented by
Celebrating MCC Members' Photography Success
We have a new section in MCC Weekly News from this week celebrating Members' photography achievements in competitions and exhibitions outside of MCC.

Congratulations to Ruth Woodrow on her recent successes, click here to read more.

If you have any recent results you would like to share to inspire other members in their photography journey, please email the Newsletter team so the website page can be updated and shared in the Weekly News.

MCC does not endorse any competitions/exhibitions that are listed, the content is for informational purposes.

Digital Editing Group
Monday 20 February, 8pm
Our topics for this month are:
Lightroom – use of the presence tools of texture, clarity and dehaze.
Photoshop – what are layers and why are they useful;
High Dynamic Range processing – why do we sometines need it and how is it done.

Mid-Week Outing Group
Tuesday 21 February, 10.30am

Botanical Gardens Melbourne – details sent via mailout on Tue 24th Jan 2023

Introduction to Photography Course
Tuesday 21 February, 7.30pm
Session 3 for Registered Participants

Print Drop Off: International Women's Day Exhibition
Thursday 23 February, 6pm-8pm, Upstairs gallery
There is no organised event at the clubrooms this week, as usual the PDI Competition will be on Zoom.

*Zoom only* PDI Competition
Thursday 23 February, 8pm

The Set Subject for this month is 'Self-Portrait'. This month's PDI judge is Robert Groom.

Note that this is a Zoom only event, no attendees at the Clubrooms.

Nature Outing
Sunday 26 February, 10am

Visit to Bunyip National Park – to be confirmed – weather dependent. Ensure you are signed up to Nature Group mailing list to receive updates.
VAPS Information
VAPS CONVENTION & EXHIBITION 2023: COLAC

The VAPS Committee is pleased to announce next year's annual convention will be held 16-18 June 2023 in Colac. Program and registrations will be announced at the end of February on the VAPS website.

VAPS NEWSBRIEF

Monthly issues of VAPS Newsbrief are available online, published at the start of each month.
Interim Editorial Committee: Sally Paterson / Mark Devaraj / Paul Dodd

Email articles and news items for Weekly News to: newsletter.group@melbournecameraclub.org.au
Submission cut off: 12pm Saturdays
Material may be subject to editing for content and length
Include an image where possible