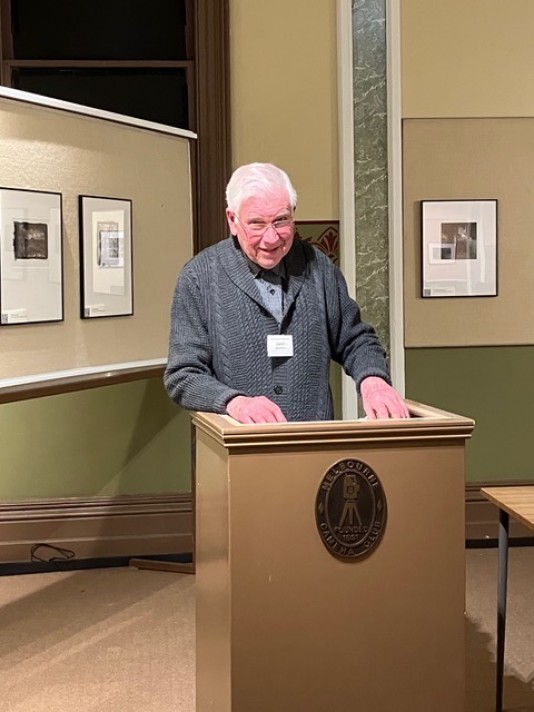 MCC's 22nd Annual Analogue Photography Exhibition was opened by our very own Past President – Barrie Bunning. Barrie, a very experienced analogue film and printmaker joined the MCC in 1962 and has seen MCC evolve over the last 60 years meeting in different "rented" locations to its current wholly owned premises. Barrie continues to be an active member of the Analogue Photography Group.

Opening event continued – click here.

This week's Club Night event is PDI Competition judging on Thursday at 8pm, the Set Subject for this month is 'Minimalism'. Note that this is a Zoom only event, there will be no attendees at the Clubrooms for monthly PDI Competitions until further notice. Refer below to the What's On This Week section for the Zoom Meeting details.
Digital Editing Group
Monday 19 September **CANCELLED**

It has been decided that in view of other global events happening on Monday 19 September, the scheduled Digital Editing Group meeting for that night will be postponed. The advertised program for the night will now occur on Monday 17 October.
AGM & Nominations for MCC Board Positions
Annual General Meeting – Thursday 6 October 2022
This year's MCC AGM will be held as a Hybrid Meeting – in person at the Clubrooms and on Zoom. Further details and formal notification will be distributed to eligible MCC Members in due course.
Nominations are now open for MCC Board positions, and must be on the prescribed forms published on the MCC website. Nominations close 10pm Thursday 22 September 2022.
Register now for MCC's Introduction to Lightroom Basics Course
The next Introduction to Lightroom Course will be held on Saturday 8 October, starting at 8.30am

This workshop covers the Library and Develop Modules.

Format: 1-day workshop where participants will follow along with an instructor using LR on their laptop. Workshop is limited to 20 participants. The objective is to introduce Lightroom Classic to photographers who have never used Lightroom to process images before.

This workshop has been developed by MCC in response to members indicating via survey that they would be interested in learning more about Lightroom.

Mid-Week Group
Tuesday 20 September, 10.30am

Cranbourne Royal Botanic Gardens
Details sent via mailout on 5 Sep 2022

Conceptual Photography Group
Wednesday 21 September, 7.30pm

We are getting close to the Zeitgeist Exhibition. Hopefully, your images are all well in hand. There is still time to consider sequencing those images so Gaye Beal will be giving a presentation on "How to Sequence a Body of Work" at our next meeting.

*Zoom only* PDI Competition
Thursday 22 September, 8pm Zoom only

The Set Subject for this month is 'Minimalism'. This month's PDI Judge is Robin Moon, joining us online from Sydney.

Note that this is a Zoom only event, no attendees at the Clubrooms.

Link: Join Zoom Meeting
Meeting ID: 861 2106 2908
Passcode: 805368

Analogue Photography Group Exhibition
Final weekend: 10am-4pm
24-25 September
Diamond Valley Photographic Society (DVPS) Exhibition
Title: Lens.Life.Vision

The general public is cordially invited to this exhibition and is presented by the Diamond Valley Photographic Society. The works displayed are significant personal stories captured by each member reflecting a diverse range of experiences and photographic genres for your enjoyment. The Society is an extremely talented group of local enthusiastic photographers sharing their work and their passion for the Art of Photography.
Venue: Montsalvat, Barn Gallery, 7 Hillcrest Avenue, Eltham 3095
Dates: Tuesday 20 September 2022 to Monday 17 October 2022
Viewing during Montsalvat hours: Thursday to Sunday 10am-4pm
APS Live Event
Expert Photographer: Lisa Kurtz
The next 60 years of photography is going to be a wild ride! Strap yourselves in for an engaging and informative discussion around the future of photography.

Date: Wednesday 26 October
Time: 7.30pm, via Zoom
Tickets: $5 APS Members / $10 Non-APS Members
APS Photo Book Awards 2022
Entries are now open for the APS Photo Book Awards 2022.

Entry is free and is open to all Australian Photographic Society and Australian camera club members.

The closing date for receipt of entries is 7 October 2022.

For further information, visit the APS website:
VAPS Newsbrief
All monthly issues of VAPS Newsbrief are available online.
Interim Editorial Committee: Sally Paterson / Mark Devaraj / Paul Dodd

Email articles and news items for Weekly News to: newsletter.group@melbournecameraclub.org.au
Submission cut off of 9pm Friday
Material may be subject to editing for content and length
Include an image where possible