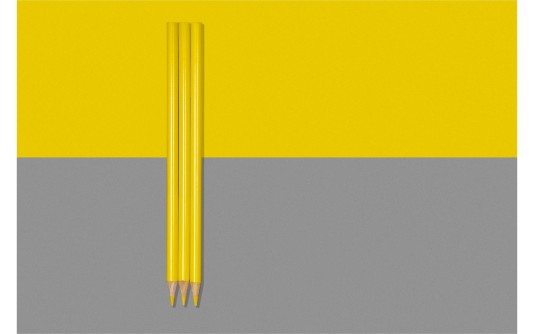 In September the competition set subject will be 'Minimalism'. On Thursday night MCC Member Paul Dodd presented a talk on Minimalist Photographers. This talk followed on from a previous presentation on Modern Still Life Photographers. Whilst not a discussion of Minimalism, this talk covered some of Paul's favourite Minimalist photographers and discussion about their work in an interactive manner. The video replay is available in the video library on the website, click here. If any new members are interested in entering competitions, all the details are on the website.
This week's Club Night event is PDI Competition judging on Thursday at 8pm, the Set Subject for this month is 'Place of Worship'. Note that this is a Zoom only event, there will be no attendees at the Clubrooms for monthly PDI Competitions until further notice. Refer below to the What's On This Week section for the Zoom Meeting details.
Image: Pencils by Paul Dodd
People's Choice Awards: Emerald Hill Reimagined – Then and Now' Exhibition

The winners of the People's Choice Awards at the recent exhibition during Open House weekend were announced on Thursday night:
Photographer: Lesley Bretherton
Lucky voter: Bridget Gatt
Volunteering Opportunities at MCC
Volunteering at MCC is a fantastic way to contribute to the Club, network with other members and give back to the Club.
MCC Maintenance Committee: Colin Booth and Kees Zonneveld are looking for Members who can volunteer their time to undertake minor maintenance tasks around the Clubrooms. If you are able to assist please contact: Colin.Booth@melbournecameraclub.org.au
Tea & Coffee: we are looking for helpers to put out the tea and coffee on Thursday nights. Even if you can help for just one Thursday a month, please get in touch.
Exhibitions Team: We are looking for Members interested in helping to plan and coordinate the Exhibition Program for the year ahead. Please get in touch with Sally Paterson if you are interested in participating.
Register now for MCC's Introduction to Lightroom Basics Course
The next Introduction to Lightroom Course will be held on Saturday 8 October, starting at 8.30am
This workshop covers the Library and Develop Modules.
Format: 1-day workshop where participants will follow along with an instructor using LR on their laptop. Workshop is limited to 20 participants. The objective is to introduce Lightroom Classic to photographers who have never used Lightroom to process images before.
This workshop has been developed by MCC in response to members indicating via survey that they would be interested in learning more about Lightroom.

Analogue Photography Group
Monday 22 August, 7.30pm – Portrait session: Shooting studio portraits on film

Introduction to Photography Course
Tuesday 23 August, 7.30pm – Session 4
For registered participants

Mid-Week Outing Group
Tuesday 23 August, 10.30am – State Library

*Zoom* Inter-Club Portrait Competition Awards
Tuesday 23 August, 7.30pm
See Weekly news email
Slideshow of all images entered in the competition – click here.
A very short and very basic "Meet the Judges" video – click here.
*Zoom only* PDI Competition
Thursday 25 August, 8pm Zoom only
The Set Subject for this month is 'Place of Worship'. This month's PDI Judge is Timothy Moon, joining us online from Sydney.
Note that this is a Zoom only event, no attendees at the Clubrooms.
Link: See Weekly news email

*Zoom* Grace Lock Meeting
Friday 26 August, 7.30pm Zoom only
Photo discussion: Join us online this Friday to share and discuss images, along with tips, tricks, issues and all things photographic. Everyone is very welcome.
Link: See Weekly news email
Wolfhound Gallery: Allegory Exhibition
19 August – 4 September
'An allegory is a form of fiction that represents immaterial things. It's a narrative that seems to be about one thing but is actually about something else. It differs from a metaphor, which endeavours to equate two seemingly unrelated things. Confusingly, allegory can be regarded as a form of extended metaphor in that things described in a narrative relate to meanings that lie out the narrative itself.'
Level 1, 386-388 Brunswick Street, Fitzroy
Hours: 12pm – 6pm, Wednesday – Sunday
Entry is free and the gallery is also open to proposals for future exhibitions.
APS Photo Book Awards 2022
Entries are now open for the APS Photo Book Awards 2022.
Entry is free and is open to all Australian Photographic Society and Australian camera club members.
The closing date for receipt of entries is 7 October 2022.
For further information, visit the APS website:
VAPS Newsbrief
All monthly issues of VAPS Newsbrief are available online.
Interim Editorial Committee: Sally Paterson / Mark Devaraj / Paul Dodd
Email articles and news items for Weekly News to: newsletter.group@melbournecameraclub.org.au
Submission cut off of 9pm Friday
Material may be subject to editing for content and length
Include an image where possible