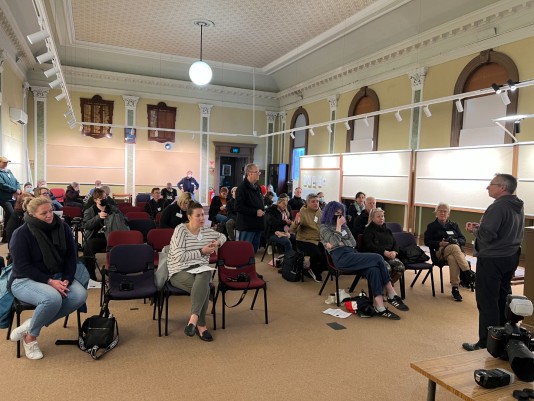 This week we are commencing Week 3 of our 5-week Introduction to Photography Course program, thank you to all the volunteers who have been helping out. Today, Peter Chapple shared his expertise in the Light and Lighting Workshop with participants practising both indoors and outdoors with people portraits.
Note that the Thursday night Zoom details for Hybrid meetings are now included in Weekly News each week for those wishing to join Thursday night events from home, as this reduces the amount of emails we are sending out. This week's guest speaker event will be a Hybrid meeting, please join us in the Clubrooms, or via Zoom, starting at 8pm. Refer below to the What's On This Week section for the Zoom Meeting details.
Image: Intro Course 14 August 2022, Mark Devaraj
Volunteering Opportunities at MCC: Exhibitions Team
Volunteering at MCC is a fantastic way to contribute to the Club, network with other members and give back to the Club.
We are looking for Members interested in helping to plan and coordinate the Exhibition Program for the year ahead. Please get in touch with Sally Paterson if you are interested in participating.
2022 Inter-Club Portrait Competition
Thank you everyone for submitting your images for selection to represent the Melbourne Camera Club in the 2022 Club Portrait Competition being run by the Camberwell Camera Club.
A panel of four curators have selected the 21 images (out of over 140 images submitted by you), which have now been submitted to the competition.
The judging and awards presentation night will be held on Tuesday 23 August commencing at 7:30pm via Zoom.
The following week on Tuesday 30 August at 7:30pm, there will be a further Zoom gathering, where photographers of winning and various award images will be invited to discuss their image in some detail.
Zoom link to both events, 23 & 30 August 7.30pm:
This same Zoom link will also operate for the Meeting the Awarded Photographers Zoom session at 7.30pm 30 August.
Slideshow of all images entered in the competition – click here.
A very short and very basic "Meet the Judges" video – click here.
Register now for MCC's Introduction to Lightroom Basics Course
The next Introduction to Lightroom Course will be held on Saturday 8 October, starting at 8.30am
This workshop covers the Library and Develop Modules.
Format: 1-day workshop where participants will follow along with an instructor using LR on their laptop. Workshop is limited to 20 participants. The objective is to introduce Lightroom Classic to photographers who have never used Lightroom to process images before.
This workshop has been developed by MCC in response to members indicating via survey that they would be interested in learning more about Lightroom.

Digital Editing Group
Monday 15 August, 8pm
This month we have something a little different. Have you ever thought of the world of ultra-macro photography like photographing the eye of an insect. Colin Booth has been exploring this are of photography for some time and is going to share with us how he goes about it. The gear, setting up, capturing images and processing those images.
This promises to be a very interesting evening.

Introduction to Photography Course
Tuesday 16 August, 7.30pm, Session 3
For registered participants

Conceptual Photography Group
Wednesday 17 August, 7.30pm
Guest Speaker
Thursday 18 August, 8pm
Due to the late cancellation of our guest speaker, and ahead of next month's competition set subject topic 'Minimalism', Paul Dodd will be speaking about minimalist photographers.
Please join us in person at the Clubrooms, or via Zoom.

Nature Outing
Sunday 21 August, 10am
Visit to Yea Wetlands

Analogue Photography Group
Monday 22 August, 7.30pm
Entries are now OPEN!
Australian Photographic Prize
The Australian Photographic Prize is an all-embracing national Photographic Awards event with a 4 day conference and expo being held in Melbourne.
Entries are open to all photographers – including professionals, students and amateurs.
Entries are open (print and digital), submissions close August 21st, 2022 and the competition will be judged in Melbourne in September.
APS Photo Book Awards 2022
Entries are now open for the APS Photo Book Awards 2022.
Entry is free and is open to all Australian Photographic Society and Australian camera club members.
The closing date for receipt of entries is 7 October 2022.
For further information, visit the APS website:
VAPS Newsbrief
All monthly issues of VAPS Newsbrief are available online.
Interim Editorial Committee: Sally Paterson / Mark Devaraj / Paul Dodd
Email articles and news items for Weekly News to: newsletter.group@melbournecameraclub.org.au
Submission cut off of 9pm Friday
Material may be subject to editing for content and length
Include an image where possible
Melbourne Camera Club © 2022
Club Location: 254-256 Ferrars Street, South Melbourne, VIC 3205
Postal Address: PO Box 1180, South Melbourne VIC 3205, Australia