Creativity takes courage. Henri Matisse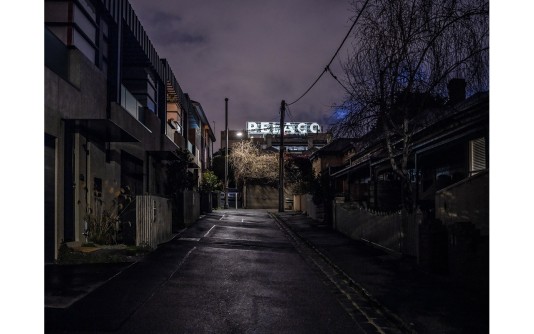 The return to normal continues as the Board has published a new set of COVID guidelines – and most of you will be happy that masks are now discretionary. You should check out the changes.
---
Image credit: PELACO – Jerzy Alexander Lau (Commended Open A Grade 10 Feb 2022)
'Emerald Hill Reimagined – Then and Now'
We had a very successful opening event on Thursday night and a good turnout of exhibitors and Members. We look forward to seeing Members, your family and friends at the exhibition next weekend 9-10 April, opening hours: 10am-4pm. Note that next weekend is Grand Prix weekend, but there are no parking restrictions in the streets around the Clubrooms.
Many thanks to everyone involved in helping bring this exhibition to life:
Melbourne Camera Club Members who were inspired by the images from the City of Port Phillip collection to create their images
City of Port Phillip support through the Arts Response Grants
Exhibition Roster 9-10 April
We are still looking for some volunteers for the Emerald Hill Exhibition roster for next weekend 9-10 April. If you can spare a couple of hours, please signup to help out.
The roster is on the website – click here. Any issues with signing up, please email your preferred date and time: secretary@melbournecameraclub.org.au
Thank you in advance.
Mat Boards For Sale
MCC has received a donation of some pre-cut mat boards that we are offering for sale to Members.
The mat boards are assembled with backing board and have pre-cut windows in 3 different sizes.
Colour: White
Outside dimensions: 16 x 20 inch
Internal cut outs: (1) 11×14" (2) 12×16" or (3) A3 size
Note that the cut outs are a few millimetres less than the above sizes, which allow the printed image to overlap slightly
Price: $10 each, payment cash or via internet banking to MCC bank account
Further details in the Members section on the website: https://melbournecameraclub.org.au/members-only-matboards/
Members who would like to purchase please email the Secretary to arrange, with pickup ideally on Thursdays at 7.45pm from the Clubrooms.
There will be a sample to view in the Gallery at Thursday club night events.
Email: secretary@melbournecameraclub.org.au
What's On Outside the MCC
Exhibitions and Competitions
Reimaginings
A Photography Exhibition from the Creative Collective

Gaye Beal, Lesley Bretherton, Ralph Domino and Renée Sterling
Jasper Hotel Arts Space – 17 March – 28 May 2022
489 Elizabeth Street, Melbourne, 3000.
Reimaginings presents the work of four creative photographic artists Gaye Beal, Lesley Bretherton, Ralph Domino and Renée Sterling, who share an interest in conceptual photography. Each artist depicts places, nature and objects in their own way, resulting in images that are original colourful, abstract and at times, intriguing.
VAPS Newsbrief
The February 2022 issue of VAPS Newsbrief is now available online.