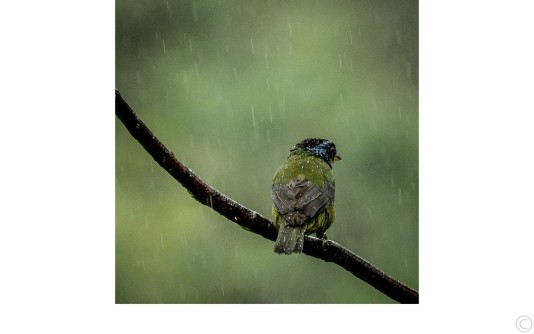 All members should be aware that the Clubrooms are now open to double-vaccinated members and visitors.
And a further reminder that this means that the Studio and Darkroom are open for booking. Previously registered facility user MUST renew their User Agreement and present a Covid vaccination certificate before they can start booking a facility.
---
Image credit: Sitting in the rain – Annette Donald (Highly Commended – Set Subj A Grade – 28 Oct 2021 PDI)
APG 21st Annual Exhibition – We may need some help
The APG 21st Annual Exhibition will takes place on the weekend of December 4th and 5th. There will be an informal opening at mid-day on the 4th.
With the need to cover Covid restrictions, it would be helpful if members outside the group were able to offer a morning or afternoon supervision on either Saturday or Sunday. Please contact Greg or Selby ASAP if you are able to help.
Nominations for Queenie Gatt Award
The Queenie Gatt Trophy is a perpetual trophy that was awarded by Charles Gatt in memory of his late mother Queenie Gatt. The Board was deeply saddened to hear of the passing of Charles Gatt earlier this year in a car accident
Nominations are now open for the Queenie Gatt Award, in special memory of Charles Gatt. The award is to honour MCC Members for their non-photographic work in support of the Club. Last year's winner was Sue Rocco, read more.
If you would like to nominate a Member for this award (Board members are not eligible), please email President Mark Devaraj with details including reasons why you think that person should be honoured.
Email: president@melbournecameraclub.org.au
Nominations close Wednesday 24 November.
Friday 26th Nov 6:00
The Grace Lock Group will be holding its final meeting for the year on Friday 26th November 2021. This meeting is a dinner to celebrate the year, although it was not the one we had planned.
RSVPs close on Monday 22nd November at 5.00pm.
Check the full information on the group's activities page.
What's On Outside the MCC
VAPS Newsbrief
The November 2021 issue of VAPS Newsbrief is now available online.
Virtual Meetings – Video Library

Video replays of most of last year's Thursday night Guest Speaker's presentations and PDI Competitions are available on the Members / Video Library page on the website.
To access the Members section you will need to login first. Any issues with your login please contact us: webcontent@melbournecameraclub.org.au