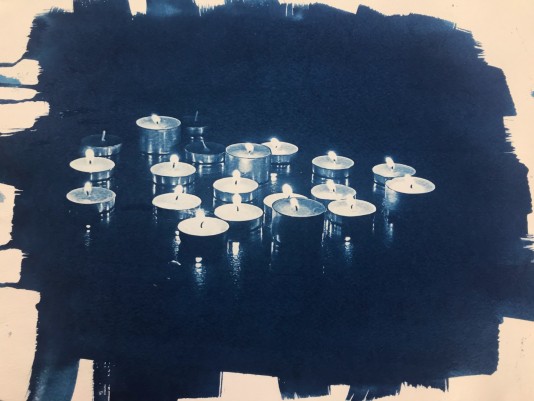 The club rooms are locked down and all face-to-face activities have been suspended.
The Analogue Photography Group 21st Annual Exhibition exhibition has been rescheduled to September 25/26..
---
Image credit: Untitled – Santina Velo (Cyanotype version of display image for APG Exhibition)
Clubroom Access – Update
In accordance with the Government's announcement of a lockdown in Victoria, there will be no access to the clubrooms and its facilities until at least Friday 20th August.
The status of planned club activities will depend on changes to the lockdown rules.
APG Annual Exhibition Update
The APG exhibition has been postponed. The exhibition will now take place on the 25th and 26th September with the opening on Friday 24th. Revised dates for print submissions etc are on the APG exhibition page.
On the 25th September, World Cyanotype Day will be celebrated with a workshop held in conjunction with the exhibition.
Update on 10CPC
The zoom link for the 10 Club Portrait Competition is now available from Ken Spence coordinator of the 10CPC. This is included in an explanatory letter from Ken that has been published on our website.
Review: Chris Bowes
Chris Bowes presented at Melbourne Camera Club on Thursday 15 July. Chris is a multidisciplinary artist based in Melbourne. Using photography, video and installation, his current practice explores the complex and evolving relationship humans have with technology by creating fractures between the natural and digital worlds.
Tuesday 17th August
Cancelled.
Thursday 19th August
The opening of the 21st Annual APG Exhibition has been rescheduled to Sept 24th.
What's On Outside the MCC
VAPS Newsbrief
The July 2021 issue of VAPS Newsbrief is now available online.
Virtual Meetings – Video Library

Video replays of most of last year's Thursday night Guest Speaker's presentations and PDI Competitions are available on the Members / Video Library page on the website.
To access the Members section you will need to login first. Any issues with your login please contact us: webcontent@melbournecameraclub.org.au