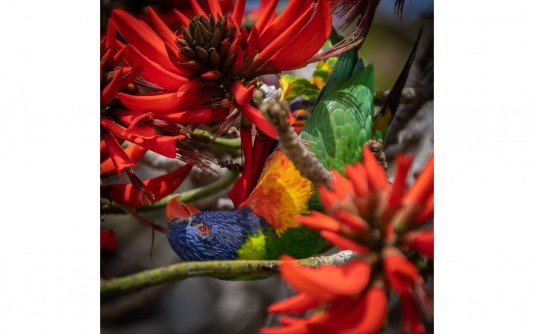 Greg and his team have published the Autumn edition of exposure. Well done.
Make sure you check how your Special Interest Groups are meeting. Some have opted for Zoom while others are face-to-face. It is a bit frustrating to arrive at the club and find the meeting is in the ether.
---
Image credit: .Summer – Luis De Pieri (Commended Open B Grade 25 Mar 2021)
Exposure Autumn 2021 now released.
Read profiles of your fellow club members, see what happened on the club walks at Lerderderg Gorge, Braeside and Williamstown. Learn how to build a star tracker device!
See it all here
Clubroom Access – Update
Following the announcement from the Victorian Government that the lockdown restrictions will ease at 11.59pm Thursday 17 June, the Board would like to advise that the MCC Clubrooms will reopen on Friday 18 June, including the booking system for Studio and Darkroom users.
Based on the updated Government requirement of 4sqm per person, the upstairs gallery will have a maximum capacity of 32 people and the studio will have a maximum capacity of 22 people – please note that wearing of masks inside the building is according to our policy, which follows Government guidelines – currently masks should be worn at all indoor venues.
In addition, the capacity of the darkroom has been decreased to one person and the capacity of the workroom/annex has been decreased to two people maximum.
We will be holding this week's PDI Competition event by Zoom only as we usually get more than 32 attendees when holding at the Clubrooms.
Special Interest Group Coordinators are encouraged to hold in-person meetings at the Clubrooms, or via Zoom if preferred.
MCC Board
19 June 2021
A Multi SIG event – Astro Shooting Walk.
Saturday 10th July 6.00pm to 10.30pm
The Monthly Photo Walk and Grace Lock Discussion Group and combining for an Astro Photography Walk.
The evening will begin with dinner at 6.00pm at the Little River Hotel, 10/14 Flinders St, Little River. Please ensure that you rsvp to either the Monthly Photo Walk photowalks@melbournecameraclub.org.au or Grace Lock Discussion Group gracelockgroup@melbournecameraclub.org.au to confirm you attendance for dinner.
After dinner we will move into the local area for some astro opportunities. Bring warm clothes and a tripod if you have one.
The evening will include a workshop on shooting the night sky.
10 Club Portrait Competition – 2021 –
Now Open For Entries
The 10-Club Portrait Competition is now open for entries on the MCC website.
As a club, we can enter 10 Single portraits, 10 two or more people portraits and 5 creative portrait entries. Entries will be chosen from member's submissions which are due on the 13 July via the competition page. Each member can enter up to 6 images, 2 per section (single, 2 or more people and creative). More details and rules are up on the website. A selection of the best entries (we are only allowed one entry per member) will be entered into the competition.
What's On Outside the MCC
VAPS Newsbrief
The April 2021 issue of VAPS Newsbrief is now available online.
Virtual Meetings – Video Library

Video replays of most of last year's Thursday night Guest Speaker's presentations and PDI Competitions are available on the Members / Video Library page on the website.
To access the Members section you will need to login first. Any issues with your login please contact us: webcontent@melbournecameraclub.org.au