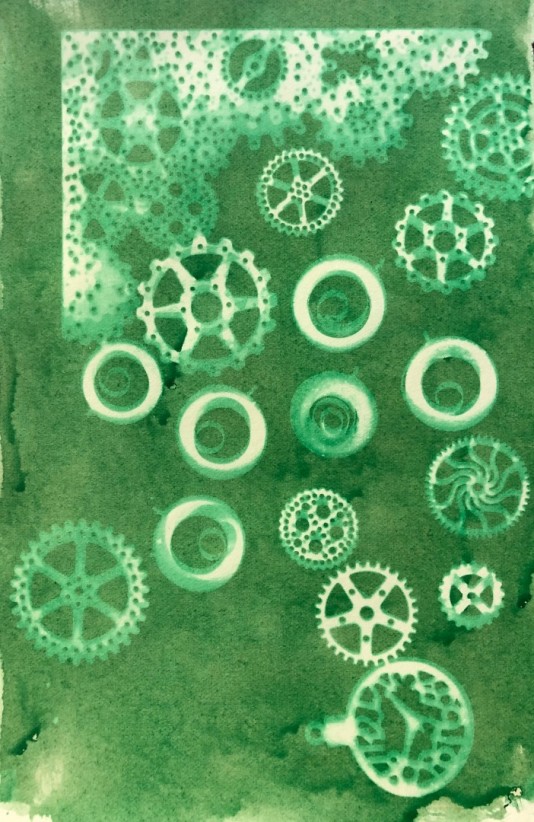 A couple of procedural things this weekend.
First, if you are in at the club on a Saturday or Sunday, please remember to put the garbage bins out. They go next to the gutter directly in front of the building. Even if they are not very full, please put them out.
Second please check the 'Club Matters' item below on the process for becoming a registered facility user.
---
Image credit: Helen Crabb – Composition (Gum Bichromate Workshop 2021)
Facilities User Registration
If anyone wishes to use the Studio or Darkroom, they have to become a registered facility user. There seems to be some confusion about what how this happens.
Please read the information on the process. Should someone wish to become a user, it is best to refer them to the appropriate Facility Manager – Darkroom or Studio.
Monday 22nd March 7.30pm
The March meeting will again give us all the chance to Show and Tell our projects, cameras etc, give and get feedback on printmaking, share our Passion Projects and Work In Progress.
This will be followed by members sharing their analogue workflow, showing examples produced in their darkroom and discussing setting up a darkroom.
We will also discuss preparations for World Pinhole Day on April 25th.
Sunday 28th Grace Lock Discussion Group
The Grace Lock Discussion Group will be visiting the Centre for Contemporary Photography gallery in Fitzroy to view Ruth Maddison: It was the best of times, it was the worst of times on Sunday, 28th March. Afterwards we'll be having lunch at the Marquis of Lorne Hotel.
Please click here for further details.
Nature Photography Exhibition
The Melbourne Camera Club is pleased to announce it will be holding its second nature photography exhibition in May this year. The exhibition will showcase the best of our members' nature work along with works from some special invited guests.
For more information on the exhibition and to register your interest, please refer to: https://melbournecameraclub.org.au/nature-2021-tc/
Videographer Volunteer Opportunity
Theatrical Inc is a Melbourne based not for profit group, promoting performing arts. They have a YouTube channel to promote volunteering and community arts organisations as a means to combat social isolation, share skills, support creative expression and encourage positive physical and mental health.
If you have an interest in videography and you are prepared to volunteer some time to help create videos to promote community arts in Melbourne please contact former MCC president Andrew Gyopar on 0468 993 903 or andrew@theatrical.com.au.
What's On Outside the MCC
VAPS Newsbrief
The February 2021 issue of VAPS Newsbrief is now available online.
Virtual Meetings – Video Library

Video replays of most of last year's Thursday night Guest Speaker's presentations and PDI Competitions are available on the Members / Video Library page on the website.
To access the Members section you will need to login first. Any issues with your login please contact us: webcontent@melbournecameraclub.org.au