Sunday 14th February 2021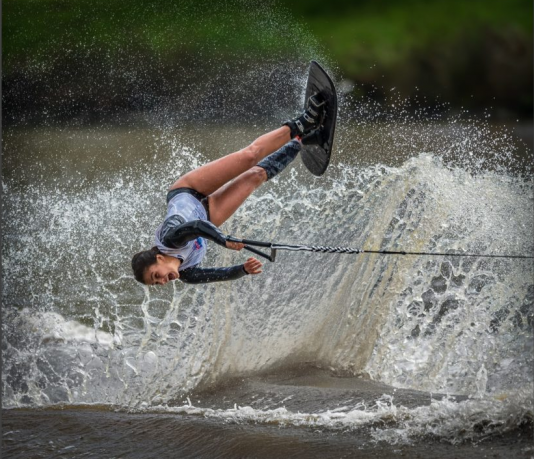 You should already have heard that the new Covid lockdown means the club will be closed until Wednesday 17th Feb 12 midnight. Zoom will be back in operation. What happens after that depends upon what the virus does.
Make sure you check the Website to get up-to-date information on what is happening.
One thing to note this week is the update from Lesley on the IWD exhibition – see below.
---
Image credit: Graeme Diggle – Tricks at Moomba 2020 (EOY Photojournalism Highly Commended)
Monday 15th February 8:00
Digital Editing Group
The Digital Editing Group will resume face to face meetings on Monday 15 February at 8pm. Our guest speaker for the evening will be A Grade Photographer of the Year 2020 – Paul Dodd. Paul is going to talk about how he creates his wonderful Jeffrey Smart style architectural images which gained him so many accolades during 2020.
Given the current COVID situation, this meeting will now be a ZOOM only meeting. Details of the zoom link have been forwarded to all financial members. If you do not have those details, please email
Thursday 18th February 8:00
Guest Speaker – Ian van der Wolde – Ethics in Photography
Multi award winning photographer Ian van der Wolde will be speaking to us about "Ethics in Photography" on Thursday 18th February. Ian is a leading Melbourne based commercial photographer who first opened his studio, Altered Images Photography back in 1986.
Ian is a past National President of the AIPP and is the current Chair of the AIPP Compliance Committee so is well-versed in the ethics of photography and is well placed to be able to answer all of your questions in this wide-ranging subject.
Sunday 21 February 10am
Nature Group Outing
The nature group will visit Braeside Park on Sunday 21 February. For more details in Whats On
Production Team wanted
MCC is seeking a small but enthusiastic team to help with production at meetings and events. Team members will be responsible for working with the computer, projector, audio and video mixers and cameras to create online and hybrid activities. Please contact secretary@melbournecameraclub.org.au to express interest.
Introduction to Photography Course
The next Introduction to Photography Course to be run by the Melbourne Camera Club begins on 23 February and runs for 6 weeks. As well as learning how to handle your camera, you will be introduced to the fundamentals of composition, light and how it impacts images and a range of photographic genres. Your course also includes 12 months membership of the Club for you to continue your photographic journey. More information can be found here.
Trierenberg Super Circuit
After a year's break due to the global pandemic, the Trierenberg Super Circuit – the world's largest photography competition – is back for 2021. MCC is organising a club entry to this competition as we have done for many years. Please click here for more information and for details on how to be a part of this exciting event.
MCC International Women's Day Photography Exhibition 2021
Thank you to everyone who has registered their images for the IWD exhibition. It is now time to enter your titles.
Submit your print titles ASAP or by Friday 19 February 2021, via this link:.
We would love more MCC member entries so if you haven't yet entered please consider entering two of your favourite images in this year's MCC International Women's Day exhibition. We are extending the entry date until the 19th February.

Please register your interest here before Friday 19 February 2021, 11.59pm
and submit your titles here ASAP or before the 19 Feb 2021
If you have already registered and entered your image titles, please ignore this request.
If you have any questions, please email exhibitions@melbournecameraclub.org.au or Lesley.bretherton@melbournecameraclub.org.au
Kind regards
Lesley Bretherton
IWD Coordinator
What's On Outside the MCC
VAPS Newsbrief
The February 2021 issue of VAPS Newsbrief is now available online.
Virtual Meetings – Video Library

Video replays of most of last year's Thursday night Guest Speaker's presentations and PDI Competitions are available on the Members / Video Library page on the website.
To access the Members section you will need to login first. Any issues with your login please contact us: webcontent@melbournecameraclub.org.au
Melbourne Camera Club © 2021
Club Location: 254-256 Ferrars Street, South Melbourne, VIC 3205
Postal Address: PO Box 1180, South Melbourne VIC 3205, Australia