Upcoming Exhibition: 'Blockies'
17-18 June 2023, 10-4pm
MCC Member Greg Branson's upcoming personal exhibition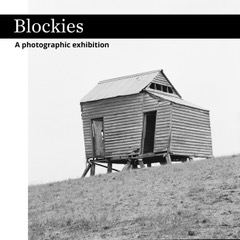 New photographic exhibition explores how the Soldier Settlement scheme failed returned Australian soldiers
A new photographic exhibition, "Blockies: The Failure of the Soldier Settlement scheme," is set to open at Melbourne Camera Club on 16 June. Featuring a collection of powerful black and white hand-printed Silver Gelatin photographs, the exhibition explores the devastating impact of the Soldier Settlement scheme on Australian soldiers who returned from the First World War.
The Soldier Settlement scheme, established in 1917, aimed to provide returned soldiers, Blockies, with land and resources to establish themselves as farmers. However, the scheme was plagued by poor planning and inadequate support, leaving many soldiers struggling to make a living and ultimately leading to its failure.
In researching his family history Greg Branson read a lot about the soldier settlement scheme for returned WW1 soldiers.
They were offered blocks of land for farming and became known as Blockies.
It was a well meaning scheme badly administered and had devastating impact on many of the soldiers. Greg's grandfather took up a soldier settler farm in Walpole South West Western Australia
"I have used some of my images of derelict buildings to illustrate their story. This photo essay exhibition combines text and images to tell the story." says Greg.
"Blockies" features a collection of haunting images of abandoned homes and farm buildings that tell the stories of the soldiers who were failed by the scheme. The photographs, all hand-printed using the traditional Silver Gelatin process, capture the beauty and starkness of the Australian landscape, while also revealing the struggles and hardships faced by the soldiers who tried to make a living on the land.
According to photographer Greg Branson, the images were inspired by the buildings he saw in Walpole, WA, where his grandfather took up a soldier settler property. "These are images I've taken of buildings that reminded me of those I saw in Walpole, WA. I saw many homes and buildings that inspired these images," says Branson.
"I wanted to shine a light on the forgotten soldiers who returned home from the war and were failed by the very system that was supposed to support them," says Branson. "These photographs are a powerful reminder of the human cost of war and the importance of supporting those who serve our country."
"Blockies: The Failure of the Soldier Settlement scheme" is a must-see exhibition for anyone interested in Australian history and the human impact of war. The exhibition runs from 17-18 June 10-4pm at The Melbourne Camera Club, 254-256 Ferrars Street, South Melbourne, and is free to attend.
Launch:
2pm Saturday 17 June. Register here.
Dates:
Saturday 17 and Sunday 18 June
Opening Hours: 10am to 4pm
Location:
Melbourne Camera Club Gallery
254-256 Ferrars St / corner Ferrars and Dorcas Streets
South Melbourne
Contact: Greg Branson email: greg@designbusinesscouncil.com